"The Summer Will Come" – By Soulla Christodoulou
In A Nutshell
Set in 1950s Cyprus, EOKA, British rule, the fight for Enosis and two Cypriot families, living in different villages on the island, are coping with the unpredictability of this fractious time.
Circumstances over a five-year period push both families to emigrate to London where, as immigrants, they struggle to settle, face new challenges, trauma and cope with missing traditions and culture.
Both families' lives cross paths in London and it seems that happier beginnings could  be theirs.
But at what cost?
A story of passion for a country in turmoil, family love, loyalty and treachery and how, sometimes, starting over isn't always as imagined.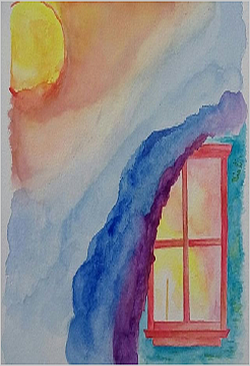 My inspiration for "The Summer Will Come"
I'm a practical kind of girl and have had many different experiences both within my personal and professional life. All have been enriching, opened my eyes to new things about myself, people and the world. But the seed which has influenced the story I am writing here came from somewhere deeper within me. My mum recovered from an illness which lasted over three years and my career in teaching, which I was once so passionate about, began to conflict with my work ethic and my personal beliefs about what a good education should look like. I began to miss being creative and laughing with the students and encouraging them to experiment and develop their own way of learning. I began to miss being in control of what I was doing and I could see that this lack of control was effecting the students in a negative way too. We were all operating day to day like robots; like nodding dogs. I began to question my life's purpose. What legacy would I leave behind once I was gone? How would people remember me? And even what is this life all about?
My Greek Cypriot roots and my sense of wonder and inquisitiveness of what came before filled my heart and my mind. What was life like before I was born, what experiences made my parents the people they are and ultimately have shaped me and the person I am today?
The story evolves around two families, both Greek Cypriot living in different villages in Cyprus, one a small mountain village and another a coastal village in the south of the island. It is 1953; the year of Queen Elizabeth's coronation and the start of what becomes a momentous period in the island's history; a time of turmoil, political conflict and slaughter of innocent people in the name of ENOSIS and freedom from the British.
Synopsis.
The story takes the reader through their trials and the final push which forces them to leave their life, the only life they have ever known, to move to London, England. This is a historical fiction novel which takes you through some of the key historical moments of those years. It is a book of hope, new dreams, hardship, determination and overcoming adversity at a time when England, too was going through lots of changes.
The novel is written as a multi-point of view story – a mother and daughter from one family and a father and son from the other family. Eleni, the daughter and Christaki, the son are the key main characters in the story. This helps to explore how events and situations are perceived by each person in the book and allows the reader to get a more rounded experience of all that happens. The story has both female voices and male voices coming through.
I have included the sights and smells of village life and draw the reader in with my descriptions.
My writing journey from the inception of the initial idea to the story and the way it has unfolded has been supported through hours of research, both secondary and primary. I have ploughed through many books, internet sites, photographs, and images. I have been privileged enough to have spoken to some incredible people face to face about their memories, thoughts, emotions and the impact that leaving their home country had on them, negative in some instances but in the most, positive. The thing which I will always remember is the determination, resilience, love and passion for traditions and culture that kept them going through all adversity and hardship.
Publishing this book will bring something very special to the book shelves of all those readers interested in Greek Cypriot life and culture as well as 1950s Cypriot and British history. Readers who enjoy strong characters, a well-paced plot with realistic yet amazing storytelling will want to read this book.