Download The PDF Version Here
1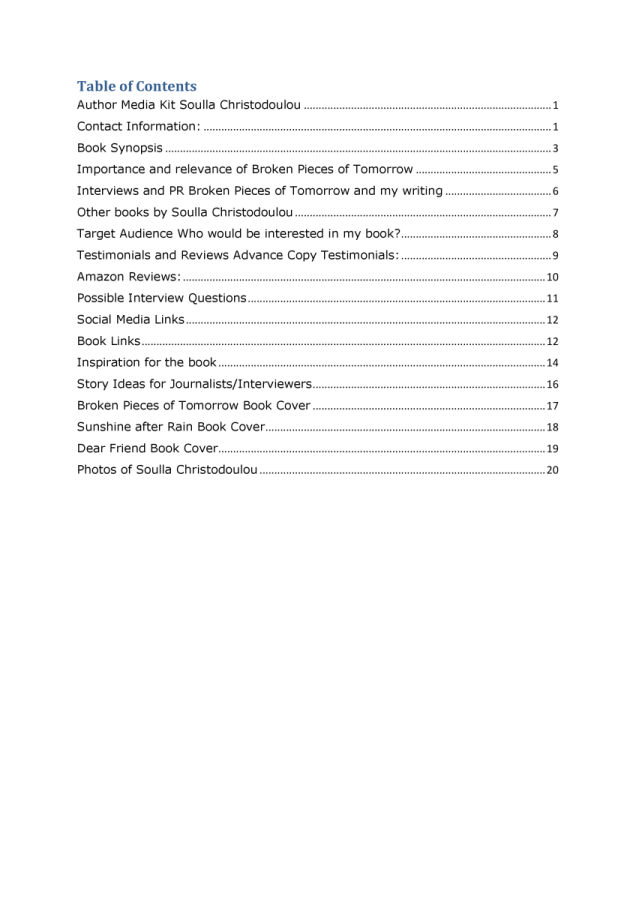 2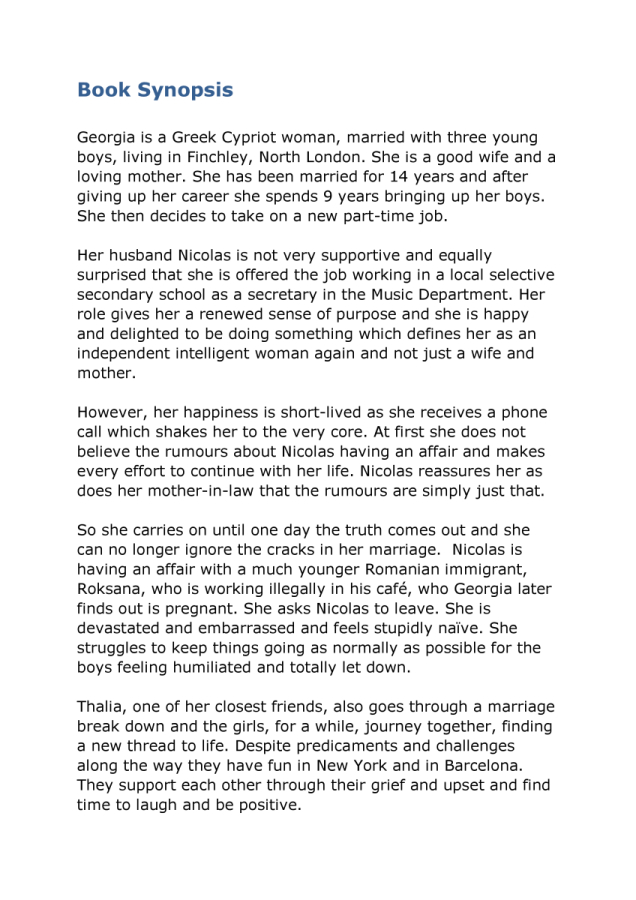 3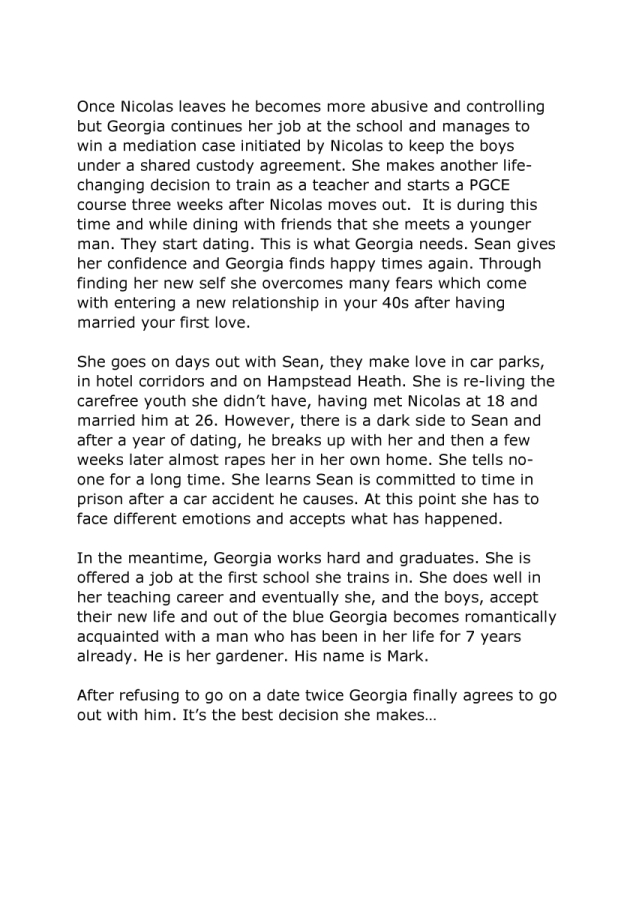 4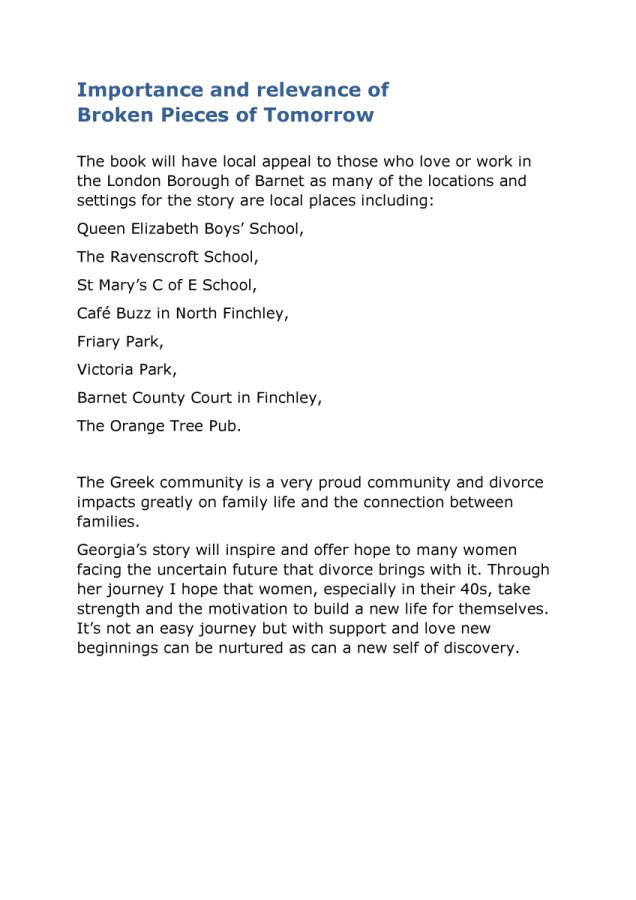 5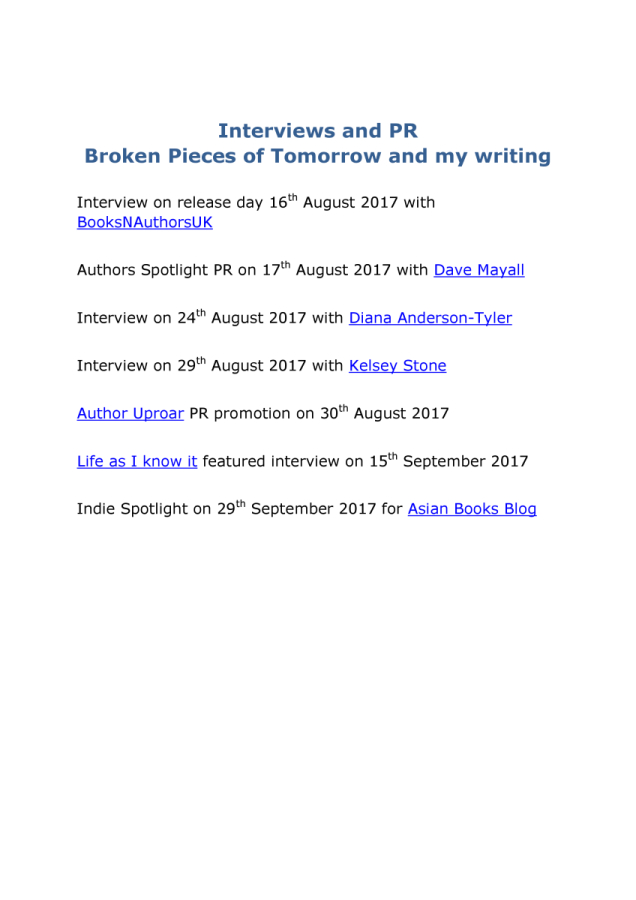 6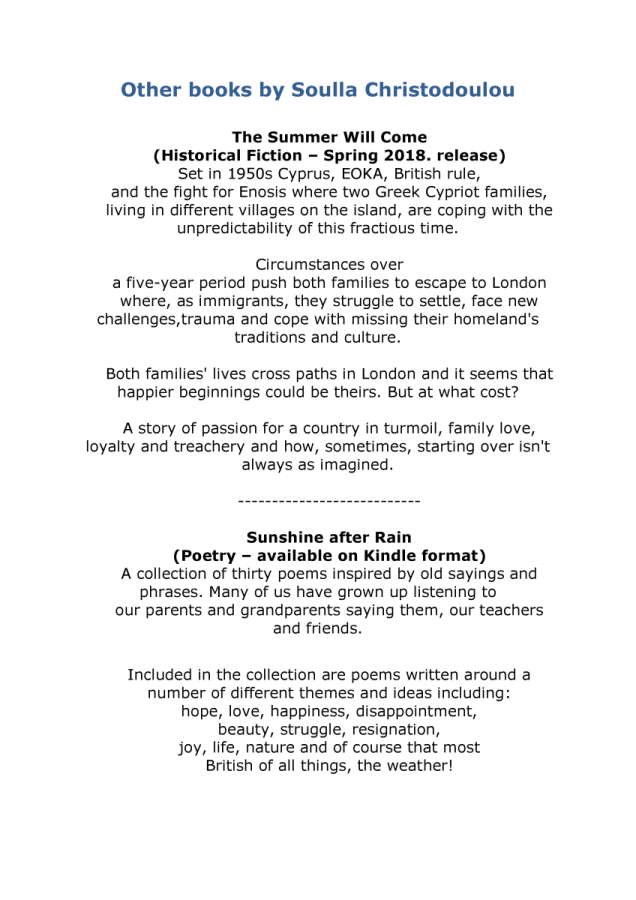 7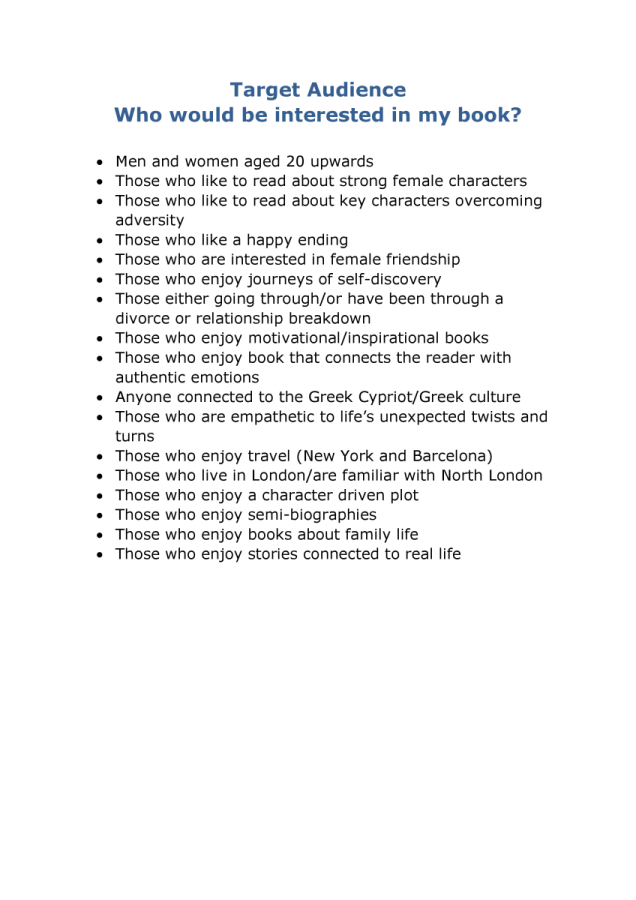 8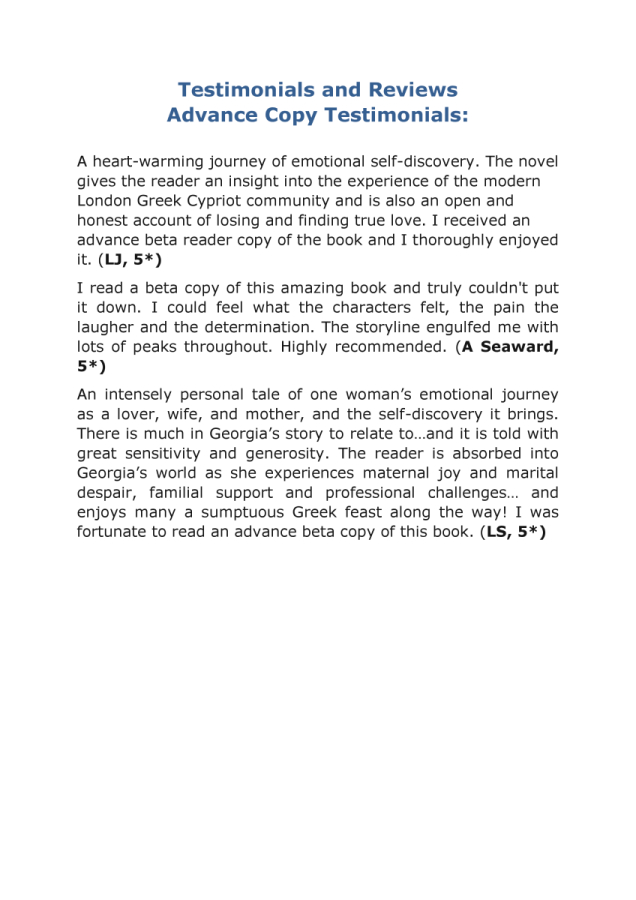 9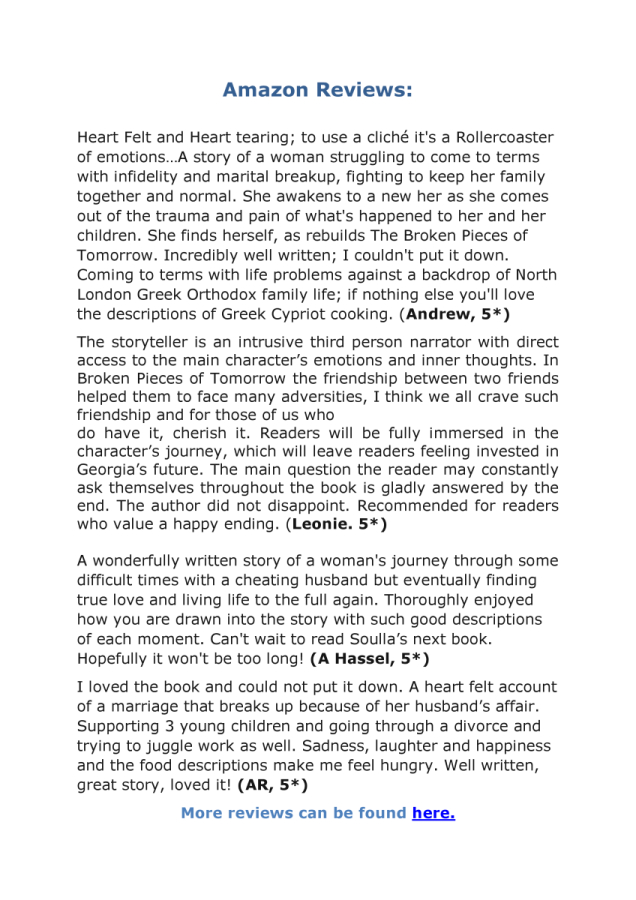 10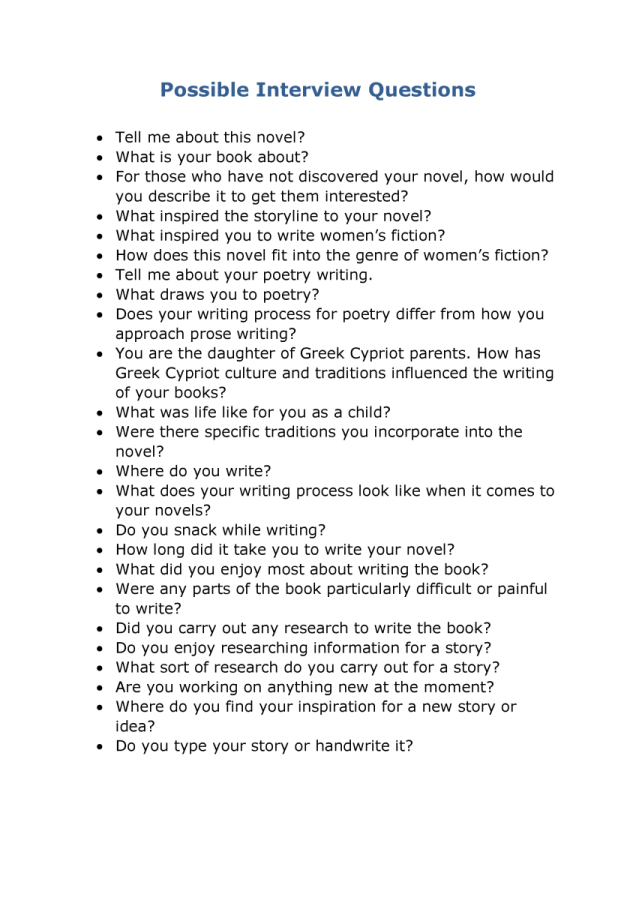 11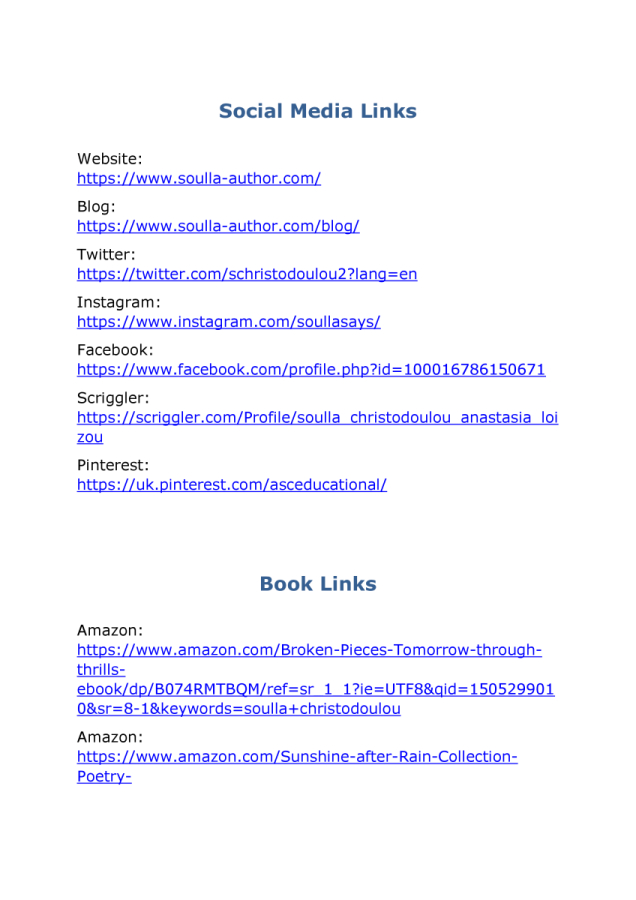 12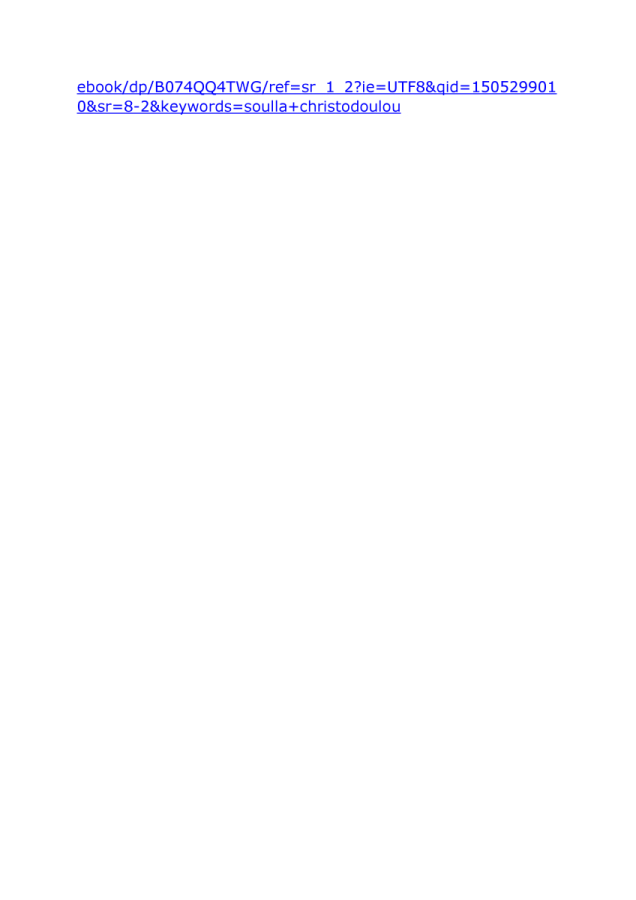 13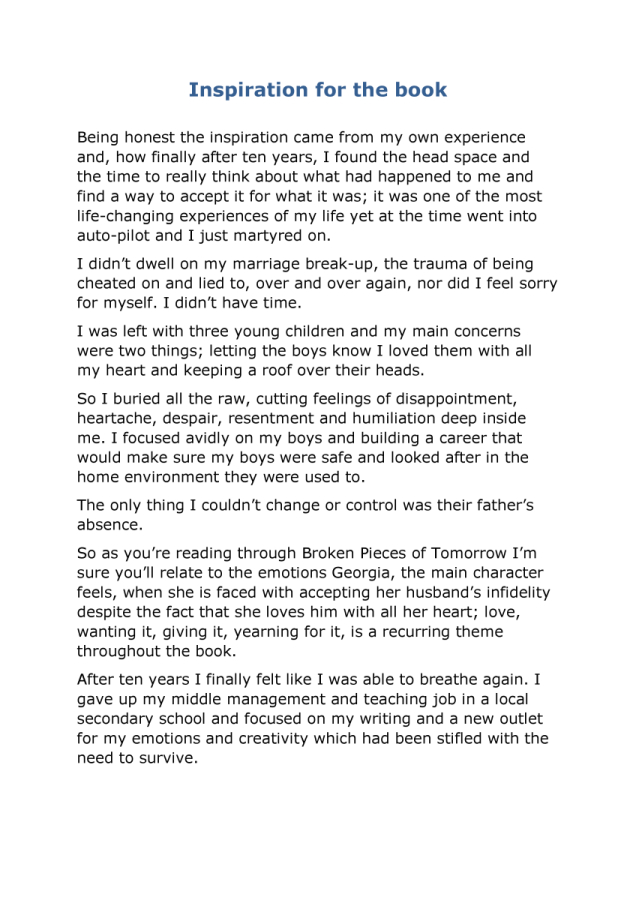 14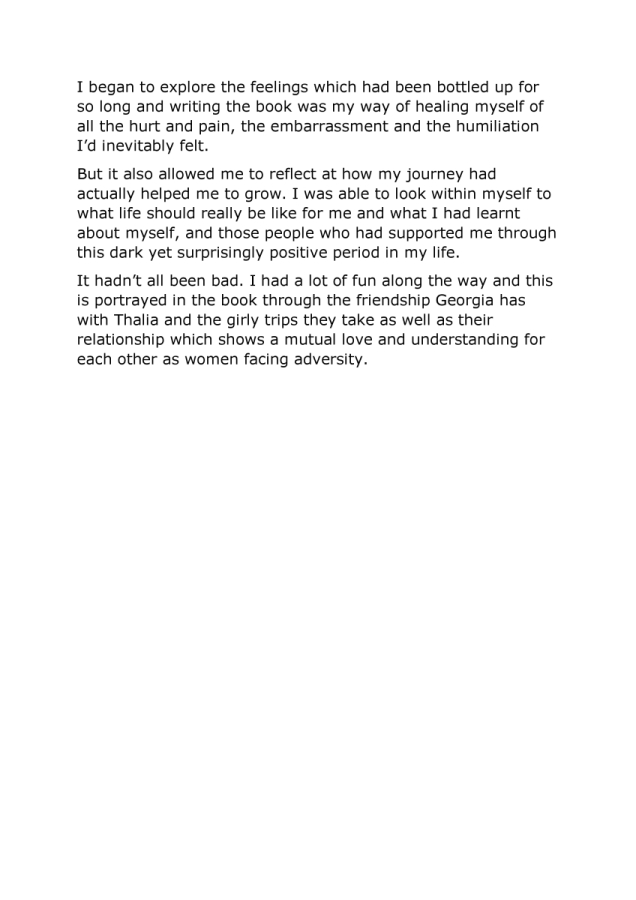 15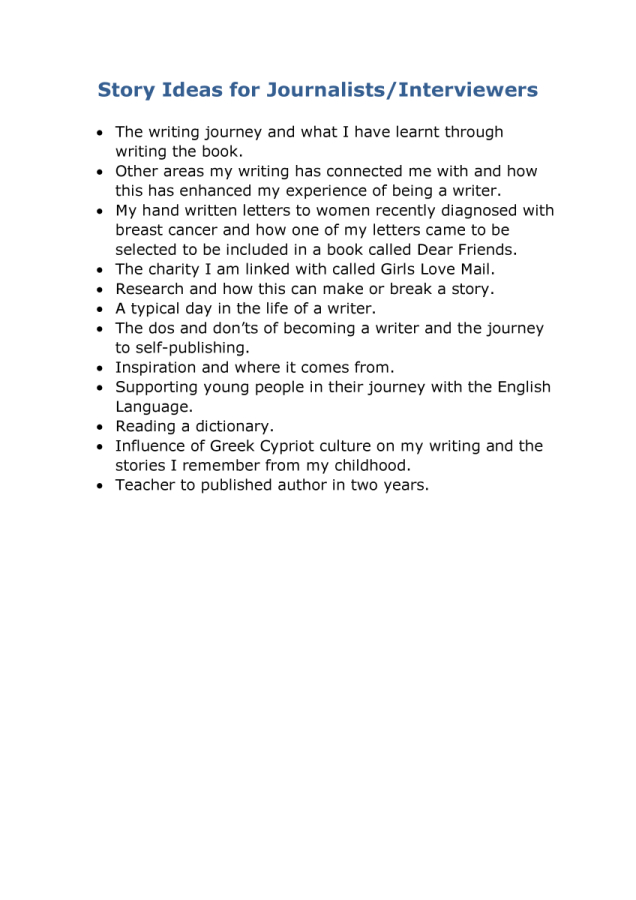 16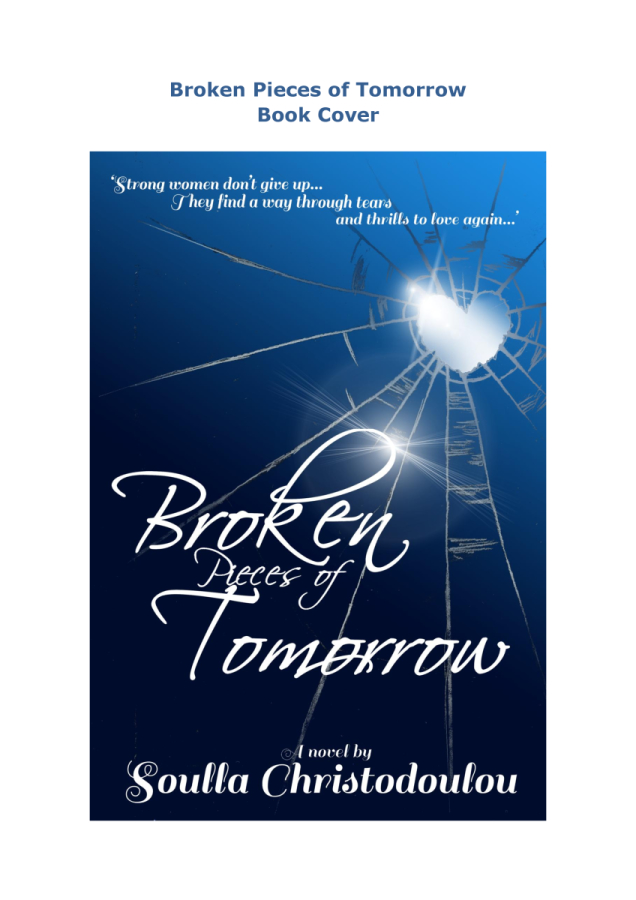 17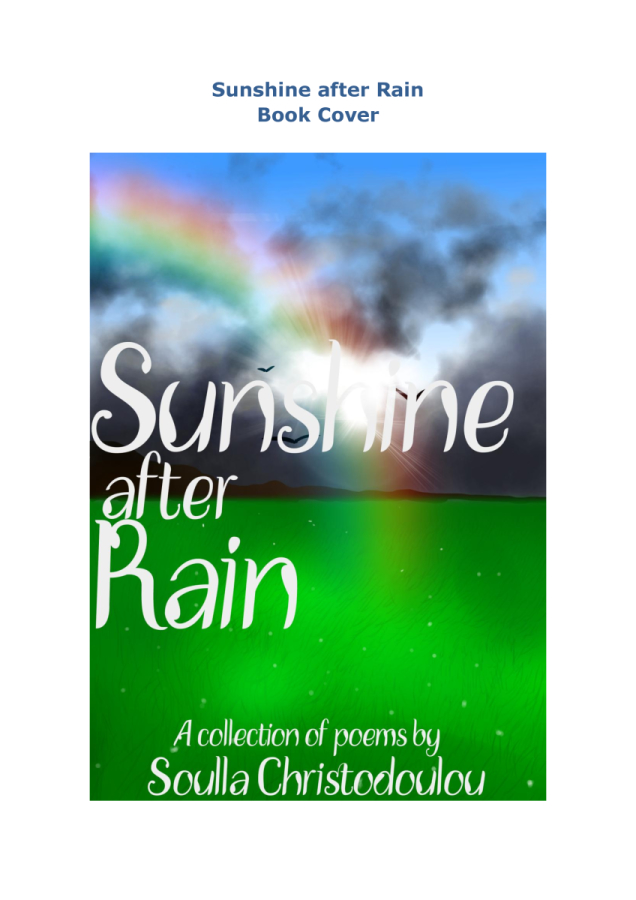 18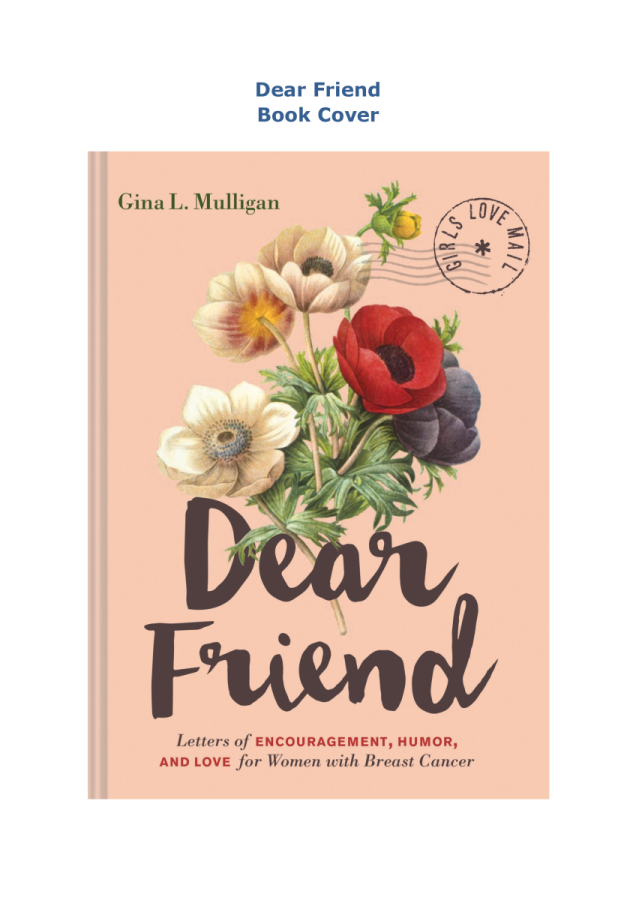 19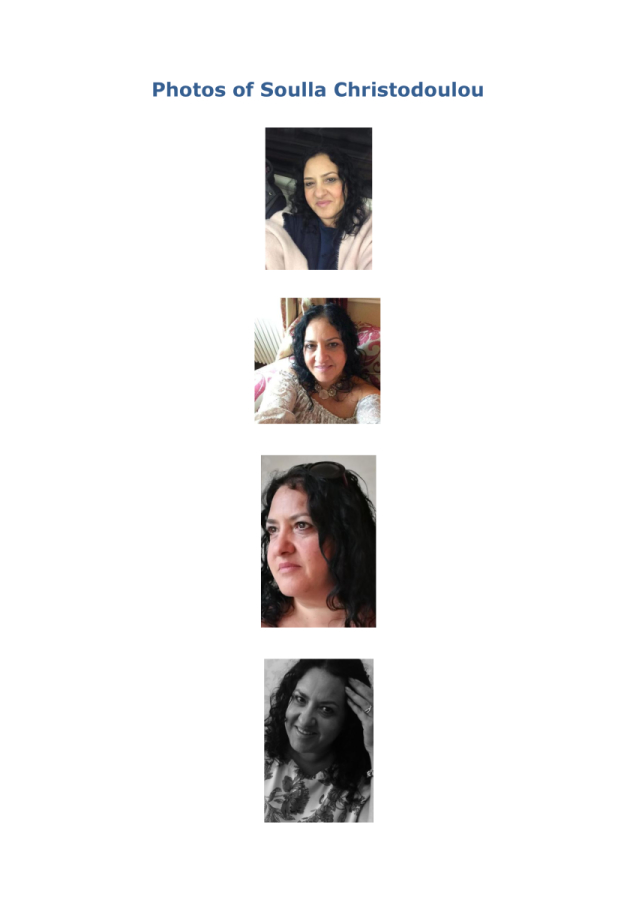 20
All Clickable Links Are Within The Text Below
Author Media Kit
Soulla Christodoulou
The content herein can only be copied or reproduced with the prior express written permission of Soulla Christodoulou. Thank you.
Contact Information:
soullaauthor@gmail.com
Table of Contents
Author Media Kit Soulla Christodoulou.. 1
Contact Information:. 1
Book Synopsis. 3
Importance and relevance of Broken Pieces of Tomorrow.. 5
Interviews and PR Broken Pieces of Tomorrow and my writing.. 6
Other books by Soulla Christodoulou.. 7
Target Audience Who would be interested in my book?. 8
Testimonials and Reviews Advance Copy Testimonials:. 9
Amazon Reviews:. 10
Possible Interview Questions. 11
Social Media Links. 12
Book Links. 12
Inspiration for the book.. 14
Story Ideas for Journalists/Interviewers. 16
Broken Pieces of Tomorrow Book Cover. 17
Sunshine after Rain Book Cover. 18
Dear Friend Book Cover. 19
Photos of Soulla Christodoulou.. 20
Book Synopsis
Georgia is a Greek Cypriot woman, married with three young boys, living in Finchley, North London. She is a good wife and a loving mother. She has been married for 14 years and after giving up her career she spends 9 years bringing up her boys. She then decides to take on a new part-time job.
Her husband Nicolas is not very supportive and equally surprised that she is offered the job working in a local selective secondary school as a secretary in the Music Department. Her role gives her a renewed sense of purpose and she is happy and delighted to be doing something which defines her as an independent intelligent woman again and not just a wife and mother.
However, her happiness is short-lived as she receives a phone call which shakes her to the very core. At first she does not believe the rumours about Nicolas having an affair and makes every effort to continue with her life. Nicolas reassures her as does her mother-in-law that the rumours are simply just that.
So she carries on until one day the truth comes out and she can no longer ignore the cracks in her marriage.  Nicolas is having an affair with a much younger Romanian immigrant, Roksana, who is working illegally in his café, who Georgia later finds out is pregnant. She asks Nicolas to leave. She is devastated and embarrassed and feels stupidly naïve. She struggles to keep things going as normally as possible for the boys feeling humiliated and totally let down.
Thalia, one of her closest friends, also goes through a marriage break down and the girls, for a while, journey together, finding a new thread to life. Despite predicaments and challenges along the way they have fun in New York and in Barcelona. They support each other through their grief and upset and find time to laugh and be positive.
Once Nicolas leaves he becomes more abusive and controlling but Georgia continues her job at the school and manages to win a mediation case initiated by Nicolas to keep the boys under a shared custody agreement. She makes another life-changing decision to train as a teacher and starts a PGCE course three weeks after Nicolas moves out.  It is during this time and while dining with friends that she meets a younger man. They start dating. This is what Georgia needs. Sean gives her confidence and Georgia finds happy times again. Through finding her new self she overcomes many fears which come with entering a new relationship in your 40s after having married your first love.
She goes on days out with Sean, they make love in car parks, in hotel corridors and on Hampstead Heath. She is re-living the carefree youth she didn't have, having met Nicolas at 18 and married him at 26. However, there is a dark side to Sean and after a year of dating, he breaks up with her and then a few weeks later almost rapes her in her own home. She tells no-one for a long time. She learns Sean is committed to time in prison after a car accident he causes. At this point she has to face different emotions and accepts what has happened.
In the meantime, Georgia works hard and graduates. She is offered a job at the first school she trains in. She does well in her teaching career and eventually she, and the boys, accept their new life and out of the blue Georgia becomes romantically acquainted with a man who has been in her life for 7 years already. He is her gardener. His name is Mark.
After refusing to go on a date twice Georgia finally agrees to go out with him. It's the best decision she makes…
Importance and relevance of
Broken Pieces of Tomorrow
The book will have local appeal to those who love or work in the London Borough of Barnet as many of the locations and settings for the story are local places including:
Queen Elizabeth Boys' School,
The Ravenscroft School,
St Mary's C of E School,
Café Buzz in North Finchley,
Friary Park,
Victoria Park,
Barnet County Court in Finchley,
The Orange Tree Pub.
The Greek community is a very proud community and divorce impacts greatly on family life and the connection between families.
Georgia's story will inspire and offer hope to many women facing the uncertain future that divorce brings with it. Through her journey I hope that women, especially in their 40s, take strength and the motivation to build a new life for themselves. It's not an easy journey but with support and love new beginnings can be nurtured as can a new self of discovery.
Interviews and PR
Broken Pieces of Tomorrow and my writing
Interview on release day 16th August 2017 with BooksNAuthorsUK
Authors Spotlight PR on 17th August 2017 with Dave Mayall
Interview on 24th August 2017 with Diana Anderson-Tyler
Interview on 29th August 2017 with Kelsey Stone
Author Uproar PR promotion on 30th August 2017
Life as I know it featured interview on 15th September 2017
Indie Spotlight on 29th September 2017 for Asian Books Blog
Other books by Soulla Christodoulou
The Summer Will Come
(Historical Fiction – Spring 2018. release)
Set in 1950s Cyprus, EOKA, British rule,
and the fight for Enosis where two Greek Cypriot families,
living in different villages on the island, are coping with the unpredictability of this fractious time.
Circumstances over
a five-year period push both families to escape to London
where, as immigrants, they struggle to settle, face new challenges,trauma and cope with missing their homeland's traditions and culture.
Both families' lives cross paths in London and it seems that happier beginnings could be theirs. But at what cost?
A story of passion for a country in turmoil, family love, loyalty and treachery and how, sometimes, starting over isn't always as imagined.
—————————
Sunshine after Rain
(Poetry – available on Kindle format)
A collection of thirty poems inspired by old sayings and phrases. Many of us have grown up listening to
our parents and grandparents saying them, our teachers and friends.
Included in the collection are poems written around a
number of different themes and ideas including:
hope, love, happiness, disappointment,
beauty, struggle, resignation,
joy, life, nature and of course that most
British of all things, the weather!
Sample poems:
ON CLOUD NINE
He'd thought about it long and hard
Mulled it over, a strategic decision
Nothing left unturned, unimagined
Each step linked
Following on from one to the other
He shut the fluttering of his heart away
Tried to ignore the whirls and dances it made
The thumping in his chest each time he thought of her
This had to be the right decision
He had to be sure
He calculated the pros and cons
A business transaction that couldn't go wrong
Failure was not an option
He would either make it work
Or it wouldn't happen at all
He was resolute, mind made up
His heart's desires quashed
And then she walked in
Her hair flowing against her bare shoulders
Eyes like diamonds and an angel's smile
Her perfumed scent touching his nostrils
Her gait so perfect as she glided across the room
Surely a heavenly being on earth
Long limbs, beautiful skin
The scar on her chin
The tiniest beauty spot above her lip
And he forgot all about his planning
He succumbed to that feeling in the sky
Jubilation heavenward lingered
He was on cloud nine.
TILL THE COWS COME HOME
Till the brown and white patched herd returns,
Unhurried and languid, The moment slows
As the Cows move lazily, without concerns
They Come at a pace relaxed, tardy time goes
Home they will when ready come the farmer learns
Till their vision is clear, undisturbed ahead pressed
A lowering of eyelids, The vision dips
As the Cows recess lying on their chest
And mouths ajar, Come their curled lips
Home in grazing, flat and open land rest
Till they are facing as one slightly uphill
The frayed tails wag before they kick
One by One the Cows approach the grille
As they Come nearer using tongues to lick
Towards their Home they together spill
Till with their consistent pace they roam
With thrusting and The pushing steady
The farmer knows his Cows fields will comb
Will Come unhurried, when they are ready
He will wait…Till The Cows Come Home
Target Audience
Who would be interested in my book?
Men and women aged 20 upwards
Those who like to read about strong female characters
Those who like to read about key characters overcoming adversity
Those who like a happy ending
Those who are interested in female friendship
Those who enjoy journeys of self-discovery
Those either going through/or have been through a divorce or relationship breakdown
Those who enjoy motivational/inspirational books
Those who enjoy book that connects the reader with authentic emotions
Anyone connected to the Greek Cypriot/Greek culture
Those who are empathetic to life's unexpected twists and turns
Those who enjoy travel (New York and Barcelona)
Those who live in London/are familiar with North London
Those who enjoy a character driven plot
Those who enjoy semi-biographies
Those who enjoy books about family life
Those who enjoy stories connected to real life
Testimonials and Reviews
Advance Copy Testimonials:
A heart-warming journey of emotional self-discovery. The novel gives the reader an insight into the experience of the modern London Greek Cypriot community and is also an open and honest account of losing and finding true love. I received an advance beta reader copy of the book and I thoroughly enjoyed it. (LJ, 5*)
I read a beta copy of this amazing book and truly couldn't put it down. I could feel what the characters felt, the pain the laugher and the determination. The storyline engulfed me with lots of peaks throughout. Highly recommended. (A Seaward, 5*)
An intensely personal tale of one woman's emotional journey as a lover, wife, and mother, and the self-discovery it brings. There is much in Georgia's story to relate to…and it is told with great sensitivity and generosity. The reader is absorbed into Georgia's world as she experiences maternal joy and marital despair, familial support and professional challenges… and enjoys many a sumptuous Greek feast along the way! I was fortunate to read an advance beta copy of this book. (LS, 5*)
Amazon Reviews:
Heart Felt and Heart tearing; to use a cliché it's a Rollercoaster of emotions…A story of a woman struggling to come to terms with infidelity and marital breakup, fighting to keep her family together and normal. She awakens to a new her as she comes out of the trauma and pain of what's happened to her and her children. She finds herself, as rebuilds The Broken Pieces of Tomorrow. Incredibly well written; I couldn't put it down. Coming to terms with life problems against a backdrop of North London Greek Orthodox family life; if nothing else you'll love the descriptions of Greek Cypriot cooking. (Andrew, 5*)
The storyteller is an intrusive third person narrator with direct access to the main character's emotions and inner thoughts. In Broken Pieces of Tomorrow the friendship between two friends helped them to face many adversities, I think we all crave such friendship and for those of us who
do have it, cherish it. Readers will be fully immersed in the character's journey, which will leave readers feeling invested in Georgia's future. The main question the reader may constantly ask themselves throughout the book is gladly answered by the end. The author did not disappoint. Recommended for readers who value a happy ending. (Leonie. 5*)
A wonderfully written story of a woman's journey through some difficult times with a cheating husband but eventually finding true love and living life to the full again. Thoroughly enjoyed how you are drawn into the story with such good descriptions of each moment. Can't wait to read Soulla's next book. Hopefully it won't be too long! (A Hassel, 5*)
I loved the book and could not put it down. A heart felt account of a marriage that breaks up because of her husband's affair. Supporting 3 young children and going through a divorce and trying to juggle work as well. Sadness, laughter and happiness and the food descriptions make me feel hungry. Well written, great story, loved it! (AR, 5*)
More reviews can be found here.
Possible Interview Questions
Tell me about this novel?
What is your book about?
For those who have not discovered your novel, how would you describe it to get them interested?
What inspired the storyline to your novel?
What inspired you to write women's fiction?
How does this novel fit into the genre of women's fiction?
Tell me about your poetry writing.
What draws you to poetry?
Does your writing process for poetry differ from how you approach prose writing?
You are the daughter of Greek Cypriot parents. How has Greek Cypriot culture and traditions influenced the writing of your books?
What was life like for you as a child?
Were there specific traditions you incorporate into the novel?
Where do you write?
What does your writing process look like when it comes to your novels?
Do you snack while writing?
How long did it take you to write your novel?
What did you enjoy most about writing the book?
Were any parts of the book particularly difficult or painful to write?
Did you carry out any research to write the book?
Do you enjoy researching information for a story?
What sort of research do you carry out for a story?
Are you working on anything new at the moment?
Where do you find your inspiration for a new story or idea?
Do you type your story or handwrite it?
Social Media Links
Website:
https://www.soulla-author.com/
Blog:
https://www.soulla-author.com/blog/
Twitter:
https://twitter.com/schristodoulou2?lang=en
Instagram:
https://www.instagram.com/soullasays/
Facebook: https://www.facebook.com/profile.php?id=100016786150671
Scriggler: https://scriggler.com/Profile/soulla_christodoulou_anastasia_loizou
Pinterest:
https://uk.pinterest.com/asceducational/
Book Links
Amazon:
https://www.amazon.com/Broken-Pieces-Tomorrow-through-thrills-ebook/dp/B074RMTBQM/ref=sr_1_1?ie=UTF8&qid=1505299010&sr=8-1&keywords=soulla christodoulou
Amazon:
https://www.amazon.com/Sunshine-after-Rain-Collection-Poetry-ebook/dp/B074QQ4TWG/ref=sr_1_2?ie=UTF8&qid=1505299010&sr=8-2&keywords=soulla christodoulou
Inspiration for the book
Being honest the inspiration came from my own experience and, how finally after ten years, I found the head space and the time to really think about what had happened to me and find a way to accept it for what it was; it was one of the most life-changing experiences of my life yet at the time went into auto-pilot and I just martyred on.
I didn't dwell on my marriage break-up, the trauma of being cheated on and lied to, over and over again, nor did I feel sorry for myself. I didn't have time.
I was left with three young children and my main concerns were two things; letting the boys know I loved them with all my heart and keeping a roof over their heads.
So I buried all the raw, cutting feelings of disappointment, heartache, despair, resentment and humiliation deep inside me. I focused avidly on my boys and building a career that would make sure my boys were safe and looked after in the home environment they were used to.
The only thing I couldn't change or control was their father's absence.
So as you're reading through Broken Pieces of Tomorrow I'm sure you'll relate to the emotions Georgia, the main character feels, when she is faced with accepting her husband's infidelity despite the fact that she loves him with all her heart; love, wanting it, giving it, yearning for it, is a recurring theme throughout the book.
After ten years I finally felt like I was able to breathe again. I gave up my middle management and teaching job in a local secondary school and focused on my writing and a new outlet for my emotions and creativity which had been stifled with the need to survive.
I began to explore the feelings which had been bottled up for so long and writing the book was my way of healing myself of all the hurt and pain, the embarrassment and the humiliation I'd inevitably felt.
But it also allowed me to reflect at how my journey had actually helped me to grow. I was able to look within myself to what life should really be like for me and what I had learnt about myself, and those people who had supported me through this dark yet surprisingly positive period in my life.
It hadn't all been bad. I had a lot of fun along the way and this is portrayed in the book through the friendship Georgia has with Thalia and the girly trips they take as well as their relationship which shows a mutual love and understanding for each other as women facing adversity.
Story Ideas for Journalists/Interviewers
The writing journey and what I have learnt through writing the book.
Other areas my writing has connected me with and how this has enhanced my experience of being a writer.
My hand written letters to women recently diagnosed with breast cancer and how one of my letters came to be selected to be included in a book called Dear Friends.
The charity I am linked with called Girls Love Mail.
Research and how this can make or break a story.
A typical day in the life of a writer.
The dos and don'ts of becoming a writer and the journey to self-publishing.
Inspiration and where it comes from.
Supporting young people in their journey with the English Language.
Reading a dictionary.
Influence of Greek Cypriot culture on my writing and the stories I remember from my childhood.
Teacher to published author in two years.
Broken Pieces of Tomorrow
Book Cover
Sunshine after Rain
Book Cover
Dear Friend
Book Cover
Photos of Soulla Christodoulou