Welcome to A Cup of Conversation with C.L. Walters, a wonderful author, who I have had the pleasure of connecting with on Instagram just before Christmas and who has already engaged in the writing community with passion, authenticity and most of all creativity. Here she reveals her career as an English teacher has spanned twenty years and shares her favourite quote from Michelle Obama's book and what her latest book Swimming Sideways is all about.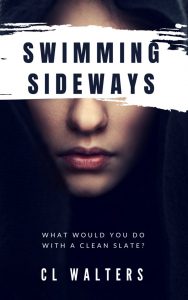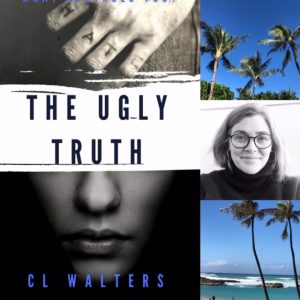 1. When did you start writing creatively?
The first story I remember writing for an audience, I was eight or nine. It was the story of an older man riding a bus with a bouquet of flowers bunched in his fist. He was dressed up in a suit and pondering his impending reunion. The man recalls a promise he made during the war and the plan he and his friend made to reunite after they'd established their lives. As a reader, we followed the protagonist through his thoughts about his friend, the war and friendship from the bus as he walks the remainder of the way to the meeting. Finally, upon our protagonist's "hello," we learn he's ventured to a cemetery where his friend has been long buried.
This makes me chuckle, now, because what would an 8 or 9-year-old girl know about being an older man? Or a soldier in WWII? Or what it would feel like to have developed a brotherhood? There are so many layers in this story that my limited perspective would never have been able to capture, but I also am a bit surprised by it too. Where did that story come from? It seems so nuanced for an eight or nine-year-old child to conceive.
I remember after I finished writing the story, I rushed to read it to my mother – an obviously biased audience. She cried, she was so moved, and her reaction was addictive for me. I've been writing creatively ever since.
2. In your own words you are 'a teacher of stories and a writer of make believe.' How does this translate into the reality of your life?
I've been an English teacher (among other positions in education) for over twenty years and have taught nearly every age from Kindergarten through Seniors in secondary school. I love opening doors to literature for students, specifically with regards to the elements of story and devices writers use to leverage meaning. When the light bulb is illuminated on the layers of an exceptional piece of literature, and a student has that ah-ha moment – it's as addictive as my mom's response to that first story I read her.
I believe my experience teaching story – of studying it and then attempting to make it accessible and relevant to those not as enamoured with it as I am - has made me a better student of writing and story structure. Over the years, as I've taught story and writing, I can see the development of my own writing craft.
3. How have you incorporated your own experiences of growing up in Oregon and Hawaii in your books? 
Swimming Sideways, the first book in the YA series I published this year incorporates both Hawaii and Oregon. The protagonist, Abby is part Hawaiian grappling with her identity as both a young woman and as a native Hawaiian in a foreign land (and attitude) of Oregon. My experiences in both places – growing up in Oregon, moving to Hawaii, teaching Hawaiian students, being a mother of Hawaiian children - have definitely influenced the initial writing of the book, however, given that Abby is Native Hawaiian, I also drew heavily from my Native Hawaiian friends and colleagues to write her appropriately. I would never want to appropriate a culture to misrepresent it in edited snapshots. Aside from that, I remember what it was like to be a young adult, and working with teens has kept me connected to the high drama and vitality of those visceral experiences.
The other two titles: The Ugly Truth (also published) and the third book (to be released in 2019) are all set in the fictional town of Cantos, Oregon. I grew up in Oregon and it wasn't until I graduated from university and married my Hawaiian sweetheart that I moved to Hawaii.  I've lived in Hawaii for almost as many years as I have Oregon at this point in my life, so both places have embedded their power in my identity. That makes it difficult to escape those attitudes, though I do make a conscious effort to develop characters who aren't a reflection of me. And while I am a woman, I definitely find writing male characters so much easier. I attribute it to being only one of two girls during my youth in my extended Oregon family of all males.
4. You recently read Becoming by Michelle Obama. You mention this quote, "Failure is a feeling long before it becomes an actual result...' How or why is it a favourite?
The quotation spoke to me on many different levels, but I think as an artist it spoke the loudest. Creative endeavours are so lonely. I find myself willingly trapped in my own head a lot, but there's a danger to being there in that lonely creative space, because – and I think you as a writer will understand – the self-doubt is a giant monster we are continually slaying. After so many rejections of my work as I attempted to walk the traditional publishing path, the self-doubt was giant and co-mingled with fear, it was paralyzing.  I stopped writing for some time, afraid because I didn't think I was good enough – that I had failed. I think that's why this quotation stood out. It's always why I think about how important a fellowship of creatives is in order to work through those doubts. I think about CS Lewis and JRR Tolkien and their writer's group without which neither The Lord of the Rings or The Chronicles of Narnia would exist.
5. Tell us a little about your next release/WIP.
I'm working on the final installment of the story that swirls around the characters of Abby (Swimming Sideways), Seth (The Ugly Truth) and Gabe. The third book, told from Gabe's point of view, is entitled The Bones of Who We Are, and I expect it will be out this coming October.
The three books are contemporary Young Adult novels with a coming-of-age slant. While I call the books a series, a better description might be companion novels. All three narratives are distinct in that they are told from a different character's point of view. The period of time is the same, but by telling the story from varied perspectives, it highlights the idea that we can never really understand someone outside of ourselves without really trying to understand their story.
6. Are any of the characters in your novels based on yourself?
No. Not really, though if you've read Swimming Sideways and The Ugly Truth, I do see parts of myself, my friends, my family, my experiences in situations or in conversations. It is the nature of writing and the writer, I think, to draw from our experiences and twist them as the narrative warrants. While the stories aren't specifically about me, there are touches of who I am in the layers of the prose. For example, Seth's story which is about abuse and alcoholism isn't one that I have personally lived through, but there are things like working on his truck with his dad, the lockers in the high school, or in the love of music that are ghosts from my own memory and experience.
7. Which of your characters is your favourite and why would your readers like them?
Am I allowed to say all of them? (LOL). When I first started writing this series of stories, it started as a paranormal fantasy with demons and angels. I was inspired to write it because I hated how Stephanie Meyer's Twilight Series dealt with Jacob – the contrived pairing of him with Bella's daughter really bothered me. Abby – as a character – had already been on my mind so, I began writing her story which introduced me to Seth and Gabe. Shortly after I finished the first novel which I'd tentatively titled Fallen, the novel Fallen by Lauren Kate and Hush Hush by Becca Fitzpatrick were published with a very similar premises (Fallen angels, demon antagonist), and I was crushed creatively. I stopped writing (here's the full-circle moment of that quotation by Michelle Obama).
Seth, however, was persistent and wouldn't stop talking to me. I don't blame him since at the end of the original Fallen story I'd taken him into hell and left him there for Gabe to come and rescue (Ha, ha, ha). Seth kept saying to me: "you can't leave me here." So, I did return to his story years later. I decided to draw Seth's story out of the paranormal world and make it a stand-alone novel. I spent time getting to know him. In the original story, Seth wasn't very likeable (which still remains in Abby's story Swimming Sideways), and I wondered why. As I began to get to know him, I realized the struggle of his story, and as I began to understand him as a character so deeply flawed, in understanding his why I began to love him. In the rewrite, I brought Seth into the contemporary world (though there's still some magical realism in his story) and that is how The Ugly Truth came to be.
To be honest, though, I find that my favourite is whoever I'm writing – because right now, I adore Gabe. He hits my heart strings in a different way than Seth but I think I might have a thing for the flawed hero.
8. How do you organise your writing process and how do you prepare your books for release?
I journal every day and that is where I start my writing day: First with some prayer and study (I am a Christian, so I spend time studying the Bible), then I journal to reflect on my personal life, choices and experiences. The reflections always take me toward whatever creative endeavour I'm working on and provides me the space and quiet to ponder the questions I have on my mind. I find that journaling is a great way to get me focused and present.
In the midst of my process, I use a calendar to keep me honest to the writing. In it, I set my monthly goals (which is usually a specific goal like "develop character A" or "explore conflict between B and C" rather than a word count. Word counts freak me out and tend to paralyze my creativity). Then, every day, I record the work I do with a quick check in. For example, I might note: Gabe (the book), fight (the scene).
With regards to release, the first book Swimming Sideways, I released to Amazon in October 2018 (I'm relatively new to the independent author world) and shared it with all of my contacts on Facebook. In a fortuitous series of events, I'd already started an author Instagram, an Author page on FB and my own website. I began to use to those platforms promote the work. I've been really humbled by the response to Swimming Sideways which has been reviewing at five stars. Especially after coming from a place of such doubt and fear.
For The Ugly Truth I did a cover reveal (the book was released December 2018), which I'm not sure if it was successful or not. Sales are slow, but I anticipated a slow start because it's realistic when no one knows you or your work. I'm working to build an author platform which I know takes time (even if I don't want it to because I'm impatient). I'm attempting my first give away on Instagram, and I have made a wonderful world-wide group of writer friends on Instagram who have reviewed my books and provided a space for an interview (Thank you, Soulla!). That has been a blessing because it makes me realize I'm not alone. Sometimes Instagram can make me feel like I am failing in comparison to everyone else, but I return to the belief that I'm doing what I can and maybe the time isn't mine to worry about. Truthfully, I have no idea what I'm doing, I'm just doing it because I LOVE writing, NOT writing isn't an option, and I want it to be my day job, too.
9. Is there any aspect of the writer's life you least enjoy? Why?
I just described it; self-promotion and marketing myself (my work) doesn't come naturally. I'm actually a perfectionist which I know Anne Lamott warned is "the voice of the oppressor," but when I do something, I want it to be exceptional. So, because I don't know much about marketing, sales, and publicity and because it isn't natural to this introvert, it's a struggle. That said, I do have a healthy enough ego to believe in the work I'm trying to get out there, so I'll step outside of the comfort zone and do what needs to be done to build that platform. If it means sharing stories that I believe in, then so be it. That, and I try not to take "no" personally.
10. What do you do to relax or recharge and how does it help your writing?
Read! Read! And Read! Stephen King wrote about the importance of reading in one of my all-time favourite reads On Writing: a memoir of the craft. I learn so much from other writers at varying stages of their own careers. I study story and craft and find ways in which maybe I'm falling short and see different approaches which help me refine my own approach to the craft. I love to watch movies (which my husband and I enjoy together. We have a website and Facebook page where we review movies). This is also about studying story for me.
I enjoy spending time with my family, but they don't necessarily re-energize me since I tend to be introverted (they are soul suckers, but I love them so very much) but being with them gets me out of my own head where I can often get lost. I love going to the beach – the sound of the ocean, the feel of the water. I'm always listening to music (Spotify is incredible) because music inspires story in my mind. A moving piece of music can move my imagination. I enjoy traveling (and would love to do more of it). It offers me perspective, new experiences, and pushes my comfort zone which I know is essential as a developing human and as a creative writer, but my favourite place to be is home.
11. Are you a planner or a pantser?
I think I'm a planner. I'd like to be a pantser – and maybe scenes are born from the spontaneity of a moment, a sound, a scent, a song, a word - but once the scene is written, I have too many questions. I begin to answer them and that is where the planning is born.
12. What are your three big plans for 2019?
Release The Bones of Who We Are (Gabe's Story)
Begin work on a new project. One is a mixed genre fantasy/Sci-Fi that I worked on for Nanowrimo this year. I'd like to complete a solid, cohesive draft since the 70,000 words I wrote for Nanwrimo are a mess.
I also have a new idea in the works for Nanowrimo 2019.
It's been a pleasure having you on A Cup of Conversation Cami and wish you all the best with your writing and new books in 2019...and thank you readers for joining us. You can connect with Cami on any of the links below as well as have a closer look at her books too.
Until next time, Happy reading, Happy writing, Happy you.
Soulla x 
Links:
Twitter: @peeledandcored
Instagram: @cl.walters
Facebook: CLWalters (@clwaltersofficial)
Website: http://www.clwalters.net
Blog: http://www.clwalters.net/blog
Amazon link to books: https://www.amazon.com/-/e/B01IC3RH7K