Ask any writer what makes their writing worthwhile and they won't say sales (although sales , of course make a difference) they will likely say reviews.
Reviews for me are hugely rewarding to read and often make my day as I read the thoughts on my writing, the impact it has had or the difference it has made to someone's understanding about themselves or something new. Recently I had two fabulous reviews on The Summer Will Come which I wanted to share with you. Both readers have given the book 5 stars on Amazon.co.uk and Amazon.com and I am absolutely thrilled…this is what makes me keep on writing!
So my first thanks go to J. Crane for leaving this review:
"This was the first book I'd read by this author and I was captivated from the very beginning. It was so beautifully written – I was swept away to the island heat of Cyprus in the 1950's at the beginning and then to the grey, damp streets of London by the end. This is a heartfelt, tender story about how history has the power to shape the human experience and how world events can affect the most ordinary of lives. It's about family, loyalty and having the strength and courage to start a new life, far removed from what you know. I stayed up until 1 in the morning to finish this book and it was definitely time well spent. I loved it and look forward to reading more from Soulla Christodoulou in the future."
My second thanks go to Allison Garcia who said this:
"Masterfully written. My senses were awakened by the beautiful imagery of Cyprus and the mouth-watering food descriptions. I loved how it was a slow burn…wondering how the families might connect. Also, as I am not familiar with Cypriot history, it served as a very intimate portrayal of the beginning of their fight for independence from English rule. I also really enjoyed seeing how they adjusted to immigrating to England. Overall, I loved the story and didn't want it to end. Beautiful job!!!!!"
Thank you to each and every one of you for buying, reading and leaving a review. Reviews make a huge difference to the book's visibility on Amazon and so even a star rating and a single word like Brilliant or Amazing counts as a review. So if you're not sure what to write just KISS – Keep IT Super Simple!!!
So mwah from me and thank you for reading and for coming back each week to read my blog too. You're my shining stars!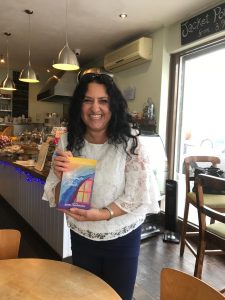 Please follow and like us:
Broken Pieces of Tomorrow: Strong women don't give up…They find a way through tears and thrills to love again… 
by
In spite of the title, 'Broken Pieces of Tomorrow,' which suggests disappointments for the protagonist, Georgia, I found this novel to be a highly enjoyable read! At first, I thought it was a memoir, but it works well as a novel, seemingly autobiographical in nature. The author, Soulla Christodoulou, makes this book fun. It's so well- written, one can step right into Georgia's shoes and take on her experiences – – quite a trip, at that! I found it an excellent progression of story. The novel grows on you as the passage of life does with its ups and downs and mysteries. The author makes you want to read more as she engages the reader in each segment of circumstances in which the protagonist finds herself. The reader experiences the delicious classic case of what will happen next. The reader is never sure of relationship outcomes which is Georgia's plight. The protagonist second-guesses herself, frequently a relatable condition when one's life's turns upside down: "She bit down on her lip, annoyed with herself for telling him too much, explaining herself. She always did that with Nicolas too." She learns about herself along the way.
True to life, this novel contains its racy bits so prepare yourself; for the most part, Soulla makes it amusing and intriguing. She tells it like it is in everyday (sometimes raw) language, and gets away with it because of her funny and personable nature which simply shines throughout this book.
In the midst of a busy holiday season, I really couldn't wait to finish my chores and preparations each day to pick up this novel, relax, and simply enjoy what's going on in Georgia's life. I can see why this book is a 'fan favourite.' Thanks, Soulla. I felt like one of Georgia's friends! And now I want to give her advice, too :))
Please follow and like us: