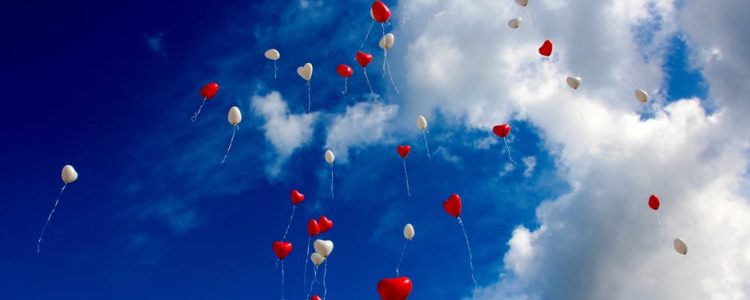 I wrote this poem – friends…discombobulated – over a year ago when I first started working seriously on the manuscript for my third book – currently titled Trust is a Big Word – though this may change.
For those of you not up to date with my next story it is about a friendship which begins online, across Twitter, as a bit of harmless flirtation and which ends up crossing the line and developing into an illicit affair, the main character is married.
It is a story about why so many people stay in relationships and make do, thinking they are not worth more, getting so comfortable in their relationship they lose their own identity and how one casual comment can turn their world upside down, make life worth living again.
It is a story of love and lust, of friendship and more and of how accepting who you are can create a whole new world where you can live, and breathe and laugh…it's going to be an incredible story.
And in the meantime this poem catches some of the essence of the book…hope you enjoy it.
I always believed you would be the one
From the wannabe excitement to the
Fat belly diets and silly football jokes
Besties through the good and the bad
But then something changed
Like ships on the wild sea, discombobulated
The clouds leaked unwanted watching
Into what became a useless, wrong lazy love
From gay spring happiness to utter desperate failure
Our love from virgin pure
To a disgusting addiction, intoxication
Now unusable, a one-sided single passion it seemed
Ears listened no more, lips moved wordless
Emerging, sounds solidifying on the ice air
Likes and fans, watching moving Twitter blue
Our bed a cake of disappointment
Bitter taste on our tongues,
Like a telling off from our mums
So we turned away from each other
To never return, to never say I could love you again.
Thank you for reading and I hope to share some of my writing with you again soon. Until next time, Happy Reading, Happy Writing, Happy You.
Soulla xxx
PS: My poetry collection Sunshine after Rain is available as an e-book download on Amazon…why not take a look here? Mwah xxx
Please follow and like us:
Hi everyone and welcome to my poetry post this week. This is a special one as it will feature in my third novel, currently titled Trust is a Big Word but this may change. The story is set in London and Scotland and follows the friendship of two people who then become involved in an illicit affair; chatting on Twitter begins as a bit of harmless flirtation but quickly escalates into something much more intense and passionate and there's no going back…or is there? Are Alexander and Maria in too deep? Will they leave the lives they know to be together or will circumstances and old habits keep them apart? Can't wait to share it with you towards the end of 2019/beginning of 2020.
THE FIRST TIME I SAW YOU
The first time I saw you was before you saw me
Walking towards me, consciously unaware I was there
I observed you whole, your walk, your look, your stare
Like an outlined drawing I could now fill in the blanks
The gait of your step, the movement of your swagger
How tall you were and the way you held your head
I averted my eyes to avoid you yet noticing me
I wanted that moment of recognition just right to be
One of held locked gaze, not a crumpled weight
Colours of want and pages of love swept through me
Long felt caresses, silver-edged dreams almost a reality
Melting deep within me, sensations infused me abound
Then you caught my eye, and smiled an open song
A collision of desire and brushstroke this is for real
You took me in your arms and wrapped me in scarlet lust
Our hearts tender, entwined threads of silk in fine gold
A sip of eternity as our lips for the first time touched
Creamy beads I felt release as I breathed a heart's wisp
And you held me there for seconds but of all eternity
Lost in your strength, a wrap of comfort, love's creation
Inside the fluttering white wings of angels dusted my heart
Please follow and like us:
Welcome!
This is one of my poems which was published on spillwords.com – where words matter – on May 19th, 2018. It's about that little word love which has the power to build us up, knock us down, have us sitting up in the clouds, or mooching around in our jim-jams all day unable to do anything!
I hope you enjoy it! 
Careless carefree love
Rose tinted giggles, memories
Discarded clothes
Tangled lace panties,
shocking pink bra
Your passion takes me
A surprise hot flame
Which wanton
Lays me bare
Flowing and perfum'd
Bed covers strewn
Pillows crumpled
Jealous love ravaging
Winking at me with burning intensity
Holding me hard, breathless
First disbelief
Heaven on earth is this
My balance evaporates
As I lay vulnerable, open
Your wild hunger grabs all of me
Your conviction wanting
Love, master over my secret
Trustless longing over and over
As gazing forth, our bodies on fire
You're inside melting me.
Thank you for joining me this week and if you'd like to read some more of my poetry my collection of 30 poems, Sunshine after Rain, is available as an ebook on Amazon. 
Until next time, enjoy the loving! 
Please follow and like us: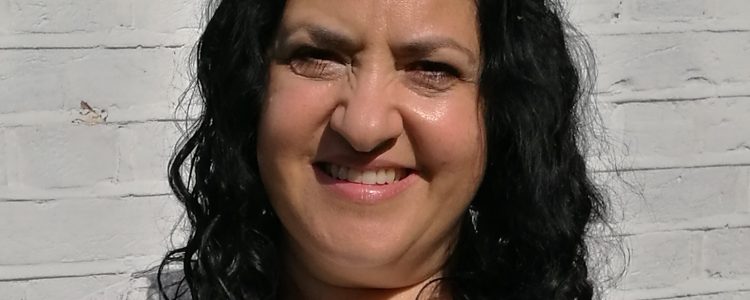 Welcome to this week's blogpost and I hope you're having a great week. I'll be honest with you my planned schedule changed and I was a bit stumped on what to post this week and then realised that I haven't really shared my poetry with you for a while…so here it goes…I've chosen three poems from my collection Sunshine after Rain for you…enjoy!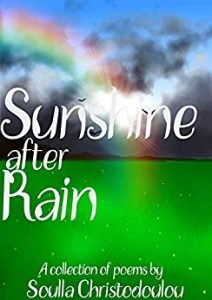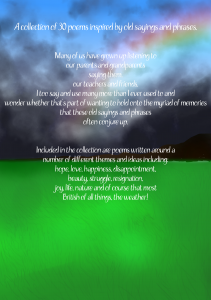 COLD HANDS, WARM HEART
Cold was the wind that carried through the air
Hands tight, deep in layers to find
Warm as the jagged bruising weight of his
Heart cherished her sweet purple lips
Cold was the imagery of the shuddering hills
Hands grasping across in mockery of his
Warm but eroded, wounded love as a
Heart once smiled now twisted echoic
Cold was the glimmer of sweet bay and laurel
Hands pearly white, pearlier and pearliest
Warm but perplexed as inertia shrouds his
Heart with ecliptic night, indigo memories
Cold was the un-knowing slavish squint as
Hands pulled and groped and lingered
Warm on teared eyes with rivulets as her
Heart traced his frown, an avalanche of agape
Cold was the hope soaked crimson
Hands reaching out to assure, to herald
Warm the lame, heretofore perish not
Heart lengthened, impressed strong as she
WHAT WILL BE WILL BE
Tears running salty down my face
Worrying about tomorrow
I don't think I can cope
Faltering, walking a tight rope
I look down into an abyss
A mass of crashing waves and rocks
Nothingness strangles my wavering control
Suffocates my breathing, my soul
When all I see is more stress and sorrow
There's no point in hiding
Who do I turn to? Where do I run?
My life is no longer fun
I close my tired eyes, I feel an angel
She strokes my face and wipes my tears
And I know as her serenity envelopes me
That what will be will be.
So I wipe my tears and paint a smile
I'm here right now with a happy heart
I cannot change a thing it's taken a while to see
But now I choose my here and now, to be free.
EVERY CLOUD HAS A SILVER LINING
Every time she looked at the sky
She wondered where the fluffy puffs came from
Did her mother tell her a lie?
Cloud after cloud appeared, shapeless shapes
Grey and white and all the shades in between
Swags and tails of flowing drapes
Has the sun disappeared for good?
Will it find its way over or under or through?
She hoped and dreamed it would
A shift in the coolest lightest breeze
She looks up, drifting cirrus high and cumulus low
A family moving in unison she sees
Silver she spies at the periphery of each
A shining edge, a lace hem, a gilded throne
A glow of orange, of lemon, of peach
Lining the blue as if true to her pining
She realises her mother was right
Every cloud has a silver lining
My collection of poetry is currently available in a Kindle downloadable format exclusively from Amazon. Here is the link to Sunshine after Rain. I hope you'll enjoy the collection which is available for free on KindleUnlimited or for 0.99 on Kindle.
And thank you for reading! Big hug and much love, Soulla x 
Please follow and like us:
Hello!
I recently entered a competition on Instagram to win a book titled Magic Hour A Mermaid's Tale written by S. Daniels. I won a beautifully signed copy of the story and its title reminded me of a poem I wrote back in February 2017 and so I'm sharing here…I hope you enjoy it.
Behind her, angles, the fabric of life
The solid architecture of man's design
She wades into the warm ocean
Cracked soles sinking into the soft sand
***
Around her feet, a sensation, a tingling
Ripples, circles of magical magnetism
A fragile mass of body and soul
The water silk, caressing her blistered skin
***
Bruises fade, then disappear
Cuts once bleeding, now heal
Bare breasts revealed under the dazzling sun
The spray gently kissing her long limbs
***
The spray of the surf unrelenting
Below, the azure waters beckon her
Above heaven's skies, jagged crack open
Her dark wavy locks soaked heavy
***
Eyelids shining, a shimmering gold
She lowers her dark brown eyes
Long eyelashes close over them
Breathing in the sharp, salt air
She tastes the sting of wet drops on her lips
And then her heart uplifting, floating,
As the spray washes over her, all of her
Joy unrelenting, crashes up through her belly
***
Undulating, rolling waves swallow her
Lightless, airy, an angel of the briny deep
Her legs ache with absolute bliss
Her tail emerges, turquoise scales
***
Ultra-marine, cobalt, sparkling hues
She dips and twists, crystal rocks
Seaweed, fish and creatures of the sea
Inviting her to the depths of the ocean
She breathes in and out, bubbles escaping her lips
She opens her eyes, safe as can be
Here in the magic, is where she belongs
This is her fantasy, her mermaid's dream.
For more of my poetry you can download Sunshine after Rain from Amazon here. It is free on Kindle Unlimited and only 99p to download.
And if you love mermaids as much as I do you can buy S. Daniel's book here as well as connect with her on Instagram @author_sdaniels and here is a little overview of her wonderful book for you: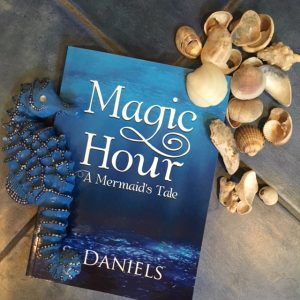 "It is the tail end of dusk, and David McAllister, an adventurous seaman traveling the world on his yacht, is gazing at the stars and wondering what his next exciting experience will be. As he scans the dark Costa Rican waters where he is anchored, he sees the silhouette of a woman, only to watch her disappear beneath the waves. Intrigued, the next day he begins asking questions of the locals and hears tales of a fish woman. Meanwhile, a mermaid who knows herself only as Gem has been captivated by the sight of David. Although she's fled humans for as long as she can remember, she finds herself unable to forget him. Their meeting marks the start of an amazing adventure for both of them, taking them to uncharted destinations and beyond. In this fantasy tale, a sailor and a mermaid are drawn to each other in the midst of magical events that will change both their lives forever." 
It promises to be an absolutely magical tale!
Enjoy your summer reading, until next time, Soulla x
Please follow and like us: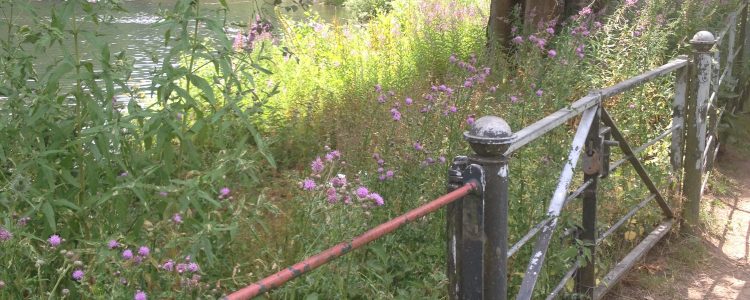 Hello! Welcome back to my poetry blog! This poem was inspired by one of my lazy Sunday walks around the beautiful Kenwood House and its wonderful lush green grounds and open parkland…It was a particularly bright sunny day and there were people spilling across the grass, huddled under the shade of the huge trees, children chasing each other. It was one of those rare but wonderful days to be out in the open air.
I remember sitting in the courtyard of the cafe with my fresh mint tea and a slice of homemade lemon drizzle cake sprinkled with poppy seeds. Under a shady umbrella, the sun still catching my arms, I sat scribbling away in my notebook…something I always carry with me as you never know when inspiration will hit and I always want to be ready…I hope you enjoy it!
Children playing in bare feet
Rosy cheeks aglow in the heat
Up above a sheet of blue
A bird flies by, I lean in kissing you
Holding hands, we stroll along
In my head repeats our song
Our fingers entwined, we walk
Whispering nothings, silly talk
Green rolling mounds climb around us
Grass filled with daisies and buttercups
Ducks quacking, feathers fluff
Climbing the hills with a huff
Boys playing football, girls flying kites
Yellow ribbons, orange stripes
Trees thick with emerald leaves
Foliage, flora and fauna breathes
Picnic hampers, happy sunbathers
Trousers rolled up and petticoat gathers
Flowing summer dresses and flip flops
Girls making daisy chains, boys jumping hop scotch
Dogs excited to be off their leads
Running wildly, chasing bees
A chorus of happy birthday fills the air
The wind blows and I hold my hair
We sit a while, poppy seed lemon cake
Strawberry and rhubarb posh pops take
We people watch, relax a while
You reach across to me and smile
Young girls, first love's flush
As they feel dreamy and lush
Takes me back to years ago
A teenager in love, a lifetime ago
Walls covered in lichen, all shades of green
A robin red breast pecking is seen
Cream canvas umbrellas a welcome shade bring
Pigeons fight and a magpie sits like a king
A sandwich wrapper catches on the wind
Blows away high, high in the trees
A toddler chases a waddling duck
An old man his newspaper at a wasp chucks
A girl limps past her ankle bandaged
Pain a grimace the bone damaged
I wonder who she's searching for
But know with you I need no more.
#POEMSC an original poem by Soulla Christodoulou
I really hope you liked this and if you'd like to read more of my poetry, you can download a copy of my collection, Sunshine After Rain, here.
Many thanks for reading, until next time…happy summer days…Soulla x
Please follow and like us:
Your words ringing in my ears
Sensitive to pain as to light
Foreboding layers, my grey fears
A veiled cloud across my sight
Anxiety invades in frantic bouts
Strangling, clenching tight
It is not how it should be I doubt
Yet I have no more inner fight
This love feels now like darkness
Irrational emotions over boiling
Strangling me and you no less
As a sticky panic begins choking
What's happened to our joyous joy?
All those bubbling feelings inside?
Is this disquietude a cruel ploy?
I'm all edginess descending a slide
As you take me in your arms
The trepidation slowly subsides
The tension no longer me harms
And love reappears on all my outsides.
Thank you for reading my poetry…Id love to hear your comments, so please feel free to leave your thoughts below.
And if you'd like to read some more my poetry collection S
unshine after Rain
 is available on
Amazon
.
Much love, Soulla x
Please follow and like us:
Thank you for joining me this week as I share with you the inspiration for the title of my book.
The title of my novel The Summer Will Come has been taken from the poem written by Evagoras Pallikarides.
Evagoras Pallikarides was a hero and poet. He was born on 27th February 1938 and died on 14th March 1957, aged 19; he was hung for his involvement in EOKA by the British.
A day before his trial, and having decided to join the EOKA fighters in the mountains, Pallikarides broke into his school and left a message and poem for his fellow students to read the following morning:
'Dear school friends, At this time, someone is missing from among you, someone who has left in search of the fresh air of Liberty, someone who you might not see alive again. Don't cry at his graveside. It won't do for you to cry. A few spring flowers scatter on his grave. This is enough for him…'
I'll take an uphill road
I'll take the paths
To find the stairs
That lead to freedom
I'll leave brothers, sisters
My mother, my father
In the valleys beyond
And the mountainsides
Searching for freedom
I'll have as company
The white snow
Mountains and torrents
Even if it's winter now
The summer will come
Bringing Freedom
To cities and villages
I'll take an uphill road
I'll take the paths
To find the stairs
That lead to freedom
I'll climb the stairs
I'll enter a palace
I know it will be an illusion
I know it won't be real
I'll wander in the palace
Until I find the throne
Only a queen
Sitting on it
Beautiful daughter, I will say,
Open your wings
And take me in your embrace
That's all I ask…'
He signed it Evagoras Pallikarides on 5th December 1955.
(He was to appear in court on 6th December 1955, the following day)
Thank you for the interest you have shown in my novel which is due for release on Amazon on 25th March 2018. 
Thank you for reading!
If you live in north London and would like to join me at my Celebratory Launch Party then please contact me by email for details of the date, venue and time: soullaauthor@gmail.com
I would love to see you there! 
Please follow and like us:
Hello and welcome to the last blog post of 2017!
It's that time of year when so many of us take time to reflect on the year that is almost over and we begin to plan ahead and think about things to come. What has made you happy and brought joy to your heart this year? What obstacles and challenges have you faced and how did you overcome them? Have your experiences changed the way you think or feel about certain aspects or people in your life? Perhaps you've lost someone dear to you. I've had highs and lows this year and I'm looking forward with a grateful heart that I am here to welcome 2018 with open arms, an open mind and an open heart. 
Life often just happens TO some of us while others have the attitude of I'M going to make life happen for ME. Either way I hope you enjoy this poem taken from my poetry collection SUNSHINE AFTER RAIN. ( viewBook.at/SARSoullaC )
It's been a long while coming
But cannot stop moving, cannot stop running
Thoughts whirling round in my head
Kindly words, promises said, whispers unsaid
What happened to our forever after?
Our joyous days filled with laughter?
Did habit and comfort get in the way?
Forgetting too often 'I love you' to say?
Life rushes, demanding space and energy
Losing ourselves to imbalanced symmetry
Hollow kisses, vacant glances and hurried caresses
The ticking clock a reminder time on presses
Early dawn mornings and late night slumber
Aching bones and tired limbs outnumber
Hours spent in front of blue screens
Or idly watching television's mundane scenes
But we must turn to each other anew
Make joint our efforts to be honest and true
To notice again beauty, joy and radiance
Breathe in rose perfume, amber fragrance
We unfold achingly, colours of a new bloom
Togetherness, unity in the same room
Holding tight, can't let go
How did we almost let our 'us' away blow?
With one accord, in each other lost
Our bursting hearts' passions embossed
We divert attention and feed love's funnel
Rejoicing we found light at the end of the tunnel
Wishing you all a very happy New Year 2018 full of dreams come true and many blessings.
Big hug and much love, Soulla xxx
Please follow and like us: