"Broken Pieces of Tomorrow" – By Soulla Christodoulou
In A Nutshell
Georgia, a second generation Greek Cypriot woman, faces an uncertain future after her marriage breaks down leaving her with three young sons.
Along the way, through tears and heartache, she pieces her life together after having lost herself for too long in motherhood and matrimony.
A journey of emotional and spiritual self-discovery, love lost and love found.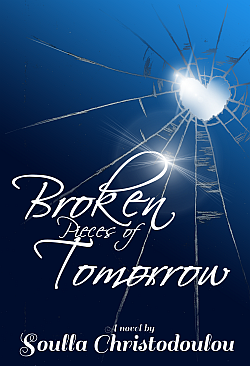 My inspiration for "Broken Pieces of Tomorrow".
Being honest the inspiration came from my own experience and, finally after ten years, having the head space and the time to really think about what had happened to me and accepting it for what it was; it was one of the most life-changing experiences of my life yet at the time I just martyred on. I didn't dwell on my marriage break-up, the trauma of being cheated on and lied to, over and over again, nor did I feel sorry for myself. I didn't have time. I was left with three young children and my main concerns were two things; letting the boys know I loved them with all my heart and keeping a roof over their heads.
So I buried all the raw, cutting feelings of disappointment, heartache, despair, resentment, and humiliation deep inside me. I focused avidly on my boys and building a career that would make sure my boys were safe and looked after in the home environment they were used to. The only thing I couldn't change or control was their father's absence.
So after ten years I finally felt like I was able to breathe again. I gave up my middle management and teaching job in a local secondary school and focused on my writing and a new outlet for my emotions and creativity which had been stifled with the need to survive.
I began to explore the feelings which had been bottled up for so long and in a way writing the book was my way of healing myself of all the hurt and pain, the embarrassment and the humiliation I'd inevitably felt, but also looking at how my journey had actually helped me to grow and look within myself to what life should really be like for me. What had I learned about myself, and those people who had supported me through this dark yet surprisingly positive period in my life.
So as you're reading through Broken Pieces of Tomorrow I'm sure you'll relate to the emotions Georgia, the main character feels, when she is faced with accepting her husband's infidelity despite the fact that she loves him with all her heart; love, wanting it, giving it, yearning for it, is a recurring theme throughout the book.
But it hadn't all been bad. I had a lot of fun along the way and this is portrayed in the book through the friendship Georgia has with Thalia and the girly trips they take as well as their relationship which shows a mutual love and understanding for each other as women facing adversity.
Synopsis.
The story begins with a wonderful account of Georgia's wedding day and then winds forward ten years with news of Georgia, now mother to three young boys, securing a part-time job in a local secondary school as a secretary. This is a welcome change to her life as she gave up her career in the hotel industry, to bring up her children as any good Greek Cypriot girl would do. Her husband Nicolas, also of Greek origin, over the
This is a welcome change to her life as she gave up her career in the hotel industry, to bring up her children as any good Greek Cypriot girl would do. Her husband Nicolas, also of Greek origin, over the years has become an increasingly arrogant and demanding man with little outward respect for his wife's love and commitment.
Although content with her life Georgia begins to see herself differently through her new job and soon discovers Nicolas' affair. Suddenly her life's path is uncertain and she has to rely on herself to build a new life. With her best friend Thalia, who also has relationship troubles of her own, she finds a way forward which takes her on a journey of self-discovery with many moments punctuated with a myriad of different emotions; physical and emotional.
I hope you enjoy the story whatever your own experience of love and marriage, relationships and friendships.
Set in North London, New York and Barcelona the story moves forward at a real life pace and will delight the reader who is familiar too with the local area of Finchley, Barnet and Crew's Hill.