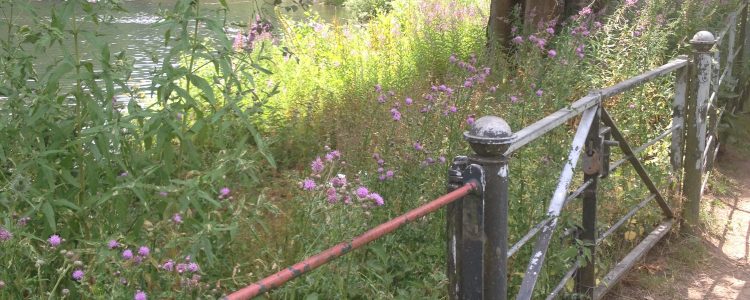 Hello! Welcome back to my poetry blog! This poem was inspired by one of my lazy Sunday walks around the beautiful Kenwood House and its wonderful lush green grounds and open parkland…It was a particularly bright sunny day and there were people spilling across the grass, huddled under the shade of the huge trees, children chasing each other. It was one of those rare but wonderful days to be out in the open air.
I remember sitting in the courtyard of the cafe with my fresh mint tea and a slice of homemade lemon drizzle cake sprinkled with poppy seeds. Under a shady umbrella, the sun still catching my arms, I sat scribbling away in my notebook…something I always carry with me as you never know when inspiration will hit and I always want to be ready…I hope you enjoy it!
Children playing in bare feet
Rosy cheeks aglow in the heat
Up above a sheet of blue
A bird flies by, I lean in kissing you
Holding hands, we stroll along
In my head repeats our song
Our fingers entwined, we walk
Whispering nothings, silly talk
Green rolling mounds climb around us
Grass filled with daisies and buttercups
Ducks quacking, feathers fluff
Climbing the hills with a huff
Boys playing football, girls flying kites
Yellow ribbons, orange stripes
Trees thick with emerald leaves
Foliage, flora and fauna breathes
Picnic hampers, happy sunbathers
Trousers rolled up and petticoat gathers
Flowing summer dresses and flip flops
Girls making daisy chains, boys jumping hop scotch
Dogs excited to be off their leads
Running wildly, chasing bees
A chorus of happy birthday fills the air
The wind blows and I hold my hair
We sit a while, poppy seed lemon cake
Strawberry and rhubarb posh pops take
We people watch, relax a while
You reach across to me and smile
Young girls, first love's flush
As they feel dreamy and lush
Takes me back to years ago
A teenager in love, a lifetime ago
Walls covered in lichen, all shades of green
A robin red breast pecking is seen
Cream canvas umbrellas a welcome shade bring
Pigeons fight and a magpie sits like a king
A sandwich wrapper catches on the wind
Blows away high, high in the trees
A toddler chases a waddling duck
An old man his newspaper at a wasp chucks
A girl limps past her ankle bandaged
Pain a grimace the bone damaged
I wonder who she's searching for
But know with you I need no more.
#POEMSC an original poem by Soulla Christodoulou
I really hope you liked this and if you'd like to read more of my poetry, you can download a copy of my collection, Sunshine After Rain, here.
Many thanks for reading, until next time…happy summer days…Soulla x
I have connected with many authors, writers and people involved in all things writing and Kristy has been one of those women who I clicked with immediately. We have the same can-do attitude, love our Twitter banter and are supportive of all our writer friends. So it is with much excitement that I introduce Kristy to you and I just know that you will love her just as much as I do as she reveals who influenced her own writing style, how the fun of the 80s growing up have slipped into her books and much more!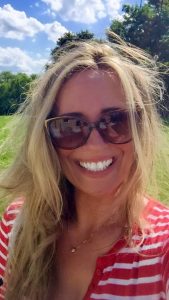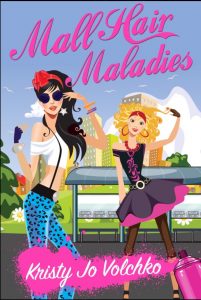 A little word from Kristy…
Thank you for having me on A Cup of Conversation, it's great to be here. Hello, readers! I hope everyone is having a wonderful summer so far.
1. When did you start writing creatively?
I've created songs, poems, and stories since childhood. There was always some limerick, jingle, or budding tale bouncing around my brain. In my 20s, I entered poetry contests, read my unpublished stories to kids, wrote music (I was in a blues band). It wasn't until the last few years I decided (and was able) to focus on writing full-time. The writing was always present; it just evolved from a simple pleasure to an unquenchable thirst. I love writing!
2. Which author has most influenced your own writing style?
I'm not sure I have any one particular style. Each project seems to have a life & style of its own. Every book and author I've ever read has influenced me in some way.
3. What personal experiences are reflected in your writing?
Well, for Mall Hair Maladies, it's my undying love of the 80s! I absolutely love the pop culture of that decade.
4. Of all your published books, which is your favourite and why?
They're all my babies, but if I had to choose a favorite, it would be one of my children's books, Operation Scrub-A-Dub Skunk. Siggy Skunk is ostracized everywhere he goes because of something he can't help; his smell. When he finally makes friends, they try hard and change his odor but it's impossible. He is, in fact, a skunk. How many times have we been left out? Left someone out? Tried to change someone? Had someone try and change us? The lessons in this book about acceptance and tolerance are wonderful.
5. Kristy, tell us a little about your latest book Mall Hair Maladies
It's a teen/coming-of-age story set in the year 1985. When the radio DJ announces that Madonna is coming to Pittsburgh in May, best friends, Randi & Tanya will do just about anything to score those tickets! As the concert date approaches, they're getting more desperate by the hour and things get out of control fast. They just have to see their idol live! In the meantime, they learn some valuable lessons about life, love, friendship, and how one night can change everything.
6. What are you working on at the moment/what's next?
This week, I worked on revisions for the second installment of the Mall Hair Maladies series, illustration details for my fifth Cackleberry Creek release, and I'm about halfway through editing a young adult fantasy I've been working on.
7. Where do you write and do you have a writing routine?
Although I have a lovely home office, I end up dragging all my writing supplies/gear down to the living room where I set myself up on an ultra-comfy reclining sofa in front of a sunshiny bay window (where I can see and hear the birds), with pillows propped all around me—under legs, behind back, neck, between my right armpit…basically, I'm writing on a woman-made cloud. The scenery, breeze, lighting…it's way better than my office. As for a writing routine? I wish I were that disciplined.
8. Are the designs for your covers inspired by your own creativity and vision or do you have a designer?
I envision the cover in my mind and do my best to convey that to the graphic artist.
9. Who edits your work? Is it something you do or do you have a professional editor?
I used two different editors for my last release—Eve Arroyo and Kat Helgeson.
10. What's your favourite go-to snack when writing?
Chocolate chips, homemade apple juice (frozen into Italian ice cups), and apple rice cakes.
11. Is there any aspect of the writer's life you least enjoy and why?
I'm not built to be confined. It's so hard for me focus when it's sunny and beautiful because I want to go out and play. And summer nights…I want to go out and play. Summertime is hardest for me to stay in and write when I just want to run, run, run. Who can come in the house, kick off their roller skates and start writing? Not me! A new episode of The Gong Show is about to start in five minutes. See? Balance is something I'm still hoping to master.
12. What advice would you give to someone looking to write their first book?
Do it, do it, do it! If it's your dream, you owe it to yourself. Don't be embarrassed, afraid, discouraged. But be warned, it's addictive!
13. What two things frustrate you the most about the writing industry?
As with any industry, it's not always about the art itself, but the marketing game, who you know, the cliques, review-trolls and saboteurs. This business isn't for the thin-skinned, and most writers/artists are sensitive beings. I used to get furious seeing real, hard-earned reviews deleted by the dozens for no reason whatsoever. Now, who cares? Also, the stigma attached to self-publishing. It's getting old.
14. Are you a planner or a pantser?
I wish I were more of a planner, but I'm 85% panster. I allow the story to unfold however it needs to.
15. What's on your current to-do list?
Haha, do we have all day?
Thank you so much, Soulla. Have a fantastic summer, everyone!
And huge thanks from me too to all of you and until next time Happy Reading, Happy Writing, Happy YOU! Soulla xxx
Links:
Twitter: https://twitter.com/kristyjovolchko?lang=en
Instagram: https://www.instagram.com/kristyjovolchko/
Facebook: https://www.facebook.com/krizmiz33
Website: http://www.kristyjovolchko.com/
Blog: https://kristyjovolchko.wordpress.com/
Amazon link to books: https://www.amazon.com/default/e/B00BGCZGQY/ref=sr_ntt_srch_lnk_1?qid=1530929893&sr=1-1&redirectedFromKindleDbs=true
Welcome to A Cup of Conversation with author Chariss K. Walker who has been a guest here quite recently. Sharing the inspirational dream behind her novel Kaleidoscope (The Vision Chronicles, Book 1) and how themes of love, prayer, forgiveness, dreams and other ideas have a physical energy she also talks frankly about her wonderful real life experiences which have influenced her writing and the many stories she has published. So grab your cuppa and let's join Chariss in what promises to be a truly wonderfully enlightening interview.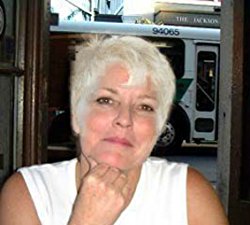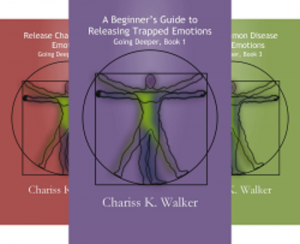 1. When did you start writing creatively?
I began creative writing in grade school. I entered a contest that was open to my K-12 school and won. Along the way, which included marriage and rearing children, I entered several local writing contests and won those too. And, I've always kept a journal. However, I published my first nonfiction book in 2008 and my first fiction book in 2014.
2. Which author has most influenced your own writing style?
I'm not sure any particular author influenced me. I've devoured so many books from a very early age that probably all the books I've read have made my writing what it is today. Books were my escape. Reading far above my age level, it's quite hilarious that I was banned from my school library for reading 'too' much. Thankfully, the public library only cautioned my mother about the level of books I read.  I suppose that if I had to name one, it would be John D. MacDonald for my fiction thrillers. I'm sure he influenced the titles I've chosen for some of my books, such as Purple Kitty and Blue Cadillac. However, my nonfiction books are written as teaching manuals in the same style as the classes I once taught on these subjects. I soon found that my books could reach a far greater audience than I could through teaching a small class.
3. What personal experiences are reflected in your writing?
Everything. I am an author that writes about the things that I know. This includes my life experiences or the experiences of others I have witnessed. I have an active spiritual life. More often than not, my dreams and meditations have led me to a new series or a character that has something to say or wants his or her story told. That may be a little unorthodox, but it's how it works for me. Usually that character has something in common with me – dreams, visions, denial of past experiences and learning to accept that earlier experience or memory.
4. You are a published writer of both fiction and non-fiction. Can you tell me how the process for each works and which you prefer writing. 
Because I studied metaphysical and spiritual concepts for over thirty years, I began writing nonfiction books to explain those concepts (those things that cannot easily be explained or measured scientifically, such as love, prayer, forgiveness, dreams, visions, karma, auras, chakras, energy, and other ideas). I have a master's degree in metaphysical sciences, an honorary doctorate in Divinity, and I am a Reiki Master/Teacher.  I write nonfiction books to share and explain these views.
After a while, I realized that we all have these mystical abilities to some extent or degree. We desire and need practical application to better understand these gifts. I transitioned to write fiction books with characters who struggle to accept that part of their lives. The more I personally accepted that idea, the more fiction books there were to write.
Some of my characters see visions, some hear an inner voice, and some have dreams that come true. Some characters are supernaturally transformed. For example, in An Alec Winter Series, Alec is faced with a harsh truth – His father is a pedophile. The acceptance of this truth pushes Alec into a preternatural change. He becomes both avenging angel and demon-destroyer to punish those in New Orleans who harm innocent children or take advantage of those less powerful.
Actually, I don't have a preference between the nonfiction and fiction books that I write. I find that, after writing a particularly gruesome crime thriller, I return to writing nonfiction as a sort of spiritual cleansing. It's beneficial to wipe the slate clean or cleanse the palette with a topic that refreshes me and hopefully the reader.
5. Your non-fiction books share insight, hope and inspiration. Can you tell me more about these themes and why you chose them?
I have always been an individual who wanted to know 'why' and 'wherefore.' When I don't understand something, I research until I am satisfied with the answer. For most of my adult life I desired to understand what God or Universe or the Power that organized this universe with all of its multiverses and layers wanted from me. I desired to know why I am here – what is the purpose of this life. In that pursuit, I studied many religions and beliefs trying to figure out my own worldview. I couldn't accept the belief systems that were spoon-fed to me as a child from my parents and local organizations.
I have found that, if one is truly open to understanding, they will be led to the information they seek. That's how it was for me. Once I discovered the spiritual aspects of life through meditation, Reiki, chakras, and other new-age concepts, I began to compare them to the religious indoctrination from my early childhood and teen years. The term 'New-age' is a misnomer – there isn't anything new about it because these ideas and principles have been around since recorded history.
My first nonfiction book, Make a Joyful Noise: Searching for a Spiritual Path in a Material World, shared all that I had learned from a Christian perspective. It compared religious doctrine to spiritual concepts. It explained forgiveness, prayer, praise, angels, and the laws of attraction so that the average reader could easily understand. I like to think that the book bridged the gap between the two groups and that it allowed the reader to see that both groups are saying the same thing, they just use different terminology. As I continued to write nonfiction books for the next four years, it became apparent that my dreams and personal inspirations were trying to tell me something, something that should be shared with readers. For example, Kaleidoscope (The Vision Chronicles, Book 1) began with my personal dream.
In that dream, I was walking along the service alley behind my home. I saw a kaleidoscope on the ground. It was covered in dirt, but I picked it up, dusted it off, and put it to my eye. Instead of the pretty colored-glass from childhood, I saw a terrible scene of disaster. Shocked, I dropped the toy. I wanted to walk away from it, but I couldn't. I was frozen to the spot. I told myself that it was just a fluke event and that, if I looked through it again, I'd see the mosaic images as I was supposed to the first time. Fortified by that notion, I picked it up and put it to my eye. Once again, I was rewarded with another terrifying image like something from a horror novel. The vision was so frightening that it woke me from a sound sleep. I sat up in bed with my heart racing. I stayed awake the rest of the night pondering what I had dreamed. The next morning, I began to write Kaleidoscope, the first book in The Vision Chronicles series.
As the protagonist, Mike Lewis wants a normal life but he knows this is impossible in his current situation. He feels that if anyone knew about his ability it would put them in danger. He tries to hide the fact that he has visions of future disasters that come true. Mike fights his ability, but then, with the help of a therapist, he begins to accept it. In Kaleidoscope, someone finds out about his secret and they attempt to abduct him. Mike realizes that he isn't paranoid after all when someone is truly after him. Mike understands that he has to accept his gift and that it might be useful in avoiding those who want to capture him. This unknown assailant chases Mike throughout the entire series, however, the more he comes to terms with his unusual ability, the more it changes.
First, Mike sees broken images through a kaleidoscope, and then he sees larger pictures through a spyglass. His ability quickly evolves as he sees visions through window panes, windows all around, open spaces, streams of light, lamp's light (all titles in the series)… and then finally, he sees all images though any clear glass surface. The Vision Chronicles Series represents our understanding of life too – The more we acknowledge, the more we grow in body, mind, and soul.  It was only natural for me to share what I had learned with others through my writings.
6. In your most recent fiction book who is your favourite character and why?
My most recent fiction book is A Medium's Birthday Surprise. Becky Tibbs is an Asheville, North Carolina medium who helps the recently departed with their unfinished business. I love Becky. She's a red-headed, freckle-faced southern girl with a lot of love and compassion. She drives a pick-up truck, wears cowboy boots, and fights her weight-gain and unruly copper tresses every day. Becky is a sweet twenty-six year old who has a lot on her plate. She wasn't born a medium. Her gift arrived on the worst night of her life – the night both of her parents died in a traffic accident.
This series is the first cozy mystery books I have written and I am really enjoying the work. It has everything a cozy mystery should have: clean language, recipes, pets, and antiques.
7. What are you working on at the moment/what's next?
After having recently finished a six-book nonfiction series, Going Deeper, which teaches the reader how to release trapped emotions and old baggage, I began to write Becky Tibbs: A North Carolina Medium's Mystery Series. The series has something for every holiday. I am currently working on A Medium's Independence Day Event. If my computer hadn't crashed last weekend, it would've been published before July 4th, 2018. However, my very old desktop did crash and burn, so that book will be delayed for a while.
8. Where do you write and do you have a writing routine?
I write at home, in a corner near the kitchen and close to the coffee pot. I treat my writing like a job even though few people would work as long and hard as I work for the pay I receive. (Smiling as I write that.) I am usually up at 5:30 each morning. I drink my first cup of coffee, meditate, do some spiritual work, and an hour later, I get online to Facebook and Tweet. I manage six groups on Facebook so I must check-in several times a day to make sure everything is running smoothly. After that is out of the way, I begin to write. I write for a few hours, return to Facebook and Twitter, catch up on my responsibilities there, then sign off and write again for a few hours. I repeat that all day, every day, until the rest of the family returns from work. As an Indie Author, I have to be willing to do all phases of writing: formatting, production, publication, promotions, and make sure everything is up to date on social media sites.
9.Who edits your work? Is it something you do or do you have a professional editor?
I edit my work using several methods before I send it to my editor. No matter how many times we or the people we trust go through our work, we can easily miss something. My favorite blunder – in one of my books there was a sentence that read, "the dog at my homework." I can't tell you how many proofreaders and editors missed that 'at vs. ate' sentence. I was reading the paperback edition when I finally found the error six months after publication.
10. What's your favourite go-to snack when writing?
I drink a lot of coffee, but I also love chocolate. I usually don't allow myself a long lunch break so if there are brownies in the house… well, that with a hot cup of black coffee, that's simply a divine pick-me-up.
       11. Is there any aspect of the writer's life you least enjoy and why?
I'm sure that I am not alone when I reply that "promotions" are the hardest part of writing for me. By nature, I am shy. I am a recluse, an introvert. I'd stay inside, wearing flannel pants and a tee-shirt, every day if given the choice.  I find it difficult to promote myself, to toot my own horn. When I was growing up, it wasn't acceptable to be 'conceited' and any action that was self-centered was considered such. I'm afraid that has followed me into adulthood.
I read comments on Goodreads and Facebook from many forums. Readers don't like for Indie Authors to send them promotional invitations. Many scorn our attempts to get recognition for our hard work. However, Goodreads certainly sends out a lot of promotions and newsletters for the traditionally published authors out there. Indie Authors have to work five times as hard for a modicum of recognition. Then, Amazon – wow! I get tongue-tied when I think about Amazon.
I believe that all Indie Authors struggle to get reviews for their books. I personally ask for reviews at the end of each book I write. After a series is complete, I give my first book away to encourage readers to read, and hopefully, review my books. The magic number for reviews on Amazon is fifty; the big five-oh. I get very close and that's where Amazon slaps me back in line. Just this week I had finally gotten 46 reviews for Kaleidoscope when Amazon randomly deleted three of them. I would have over fifty reviews already if they didn't delete a few along the way. It's painful and disheartening because there is no way to fight such injustice or such a huge conglomerate.
From the promotional aspect, I have to laugh at the absurdity and difficulty of being an Indie Author. I wish I could ignore it, but I can't. I have to promote daily in hopes of wading through the 1,000,000 new titles published each year. I recently read that since electronically published books (eBooks) came to be, there are 32,000,000 (thirty-two-million – it looks bigger in number format) books in print and some estimate that number to be closer to 42,000,000. It's amazing that an unknown Indie Author can sell even one book.
    12. What advice would you give to someone looking to write their first book?
For new authors, I suggest that they do a lot of preparation before they begin to write. Read a lot of books. Read different authors and topics. An avid reader usually makes for a good author – not always, but it certainly helps. Preparation includes knowing your genre, your audience, and your writing level. Figure out where you will promote your book before you publish. Have everything lined up to announce your new release before you hand it over to the world. Also, make sure your book is the best it can be and fully edited before you ever put it in print or eBook format. You are making a first impression and that is worth the extra time it takes to do it right.
    12. What two things frustrate you most about the writing industry?
It is very frustrating to see the bias against Indie Authors. Amazon and Goodreads give preferential treatment to traditionally published authors for sure, but many readers are also prejudiced. They treat authors and their books like name brands – Toyota, Sprint, Nike, Apple, Tylenol – never giving that generic or independent author a chance. Yes, there are a lot of authors who write one poorly edited book and disappear from the scene – that hurts all of us. But, there are also a lot of great Indie Authors who work hard to write excellent material and they are here to stay. I am one of them. I've thus far written 36 titles and I have a lot more to write. Goodreads and Amazon are vital resources for an Indie Author, but they can hurt us as much as help us.  I am often amazed that so many authors give Amazon exclusive rights to their hard work and actually help sell the KindleUnlimited program. My books are for sale on Smashwords, B&N, Kobo, iBooks, Google Play, and many other online sites.
    13. Are you a planner or a pantser?
I'm a pantser. And, I am a planner. This is a one woman show; therefore, I must plan and make the important decisions about my writings.
    14. What's on your current to-do list? 
My near and distant future plans include writing the books for Becky Tibbs: A North Carolina Medium's Mystery Series. I have several books already lined out that tell Becky's story: A Medium's Birthday Surprise, Book 1; A Medium's Independence Day Incident, Book 2; A Medium's Labor Day Job, Book 3; and so forth. I have also committed time to read and review other Indie Authors' work. My TBR pile is large, but I like to give back to others who struggle like I do. I also have a spot on my website for "Author Friends and Bloggers" and I hope to increase that list.
Links:
Twitter: https://twitter.com/chariss_walker
Instagram: https://www.instagram.com/charissk.walker/
Facebook: https://www.facebook.com/CharissKWalkerAuthor
LinkedIn: https://www.linkedin.com/in/charisswalker
Website: http://chariss.com/
Amazon link to books: http://www.amazon.com/Chariss-K.-Walker/e/B004QZNKRK
Goodreads: https://www.goodreads.com/author/show/1984212.Chariss_K_Walker
Bookbub: https://www.bookbub.com/authors/chariss-k-walker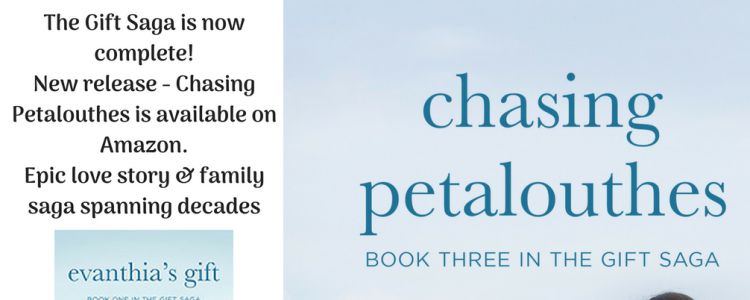 Welcome to A Cup of Conversation with wonderful writer and food blogger Effie Kammenou. I instantly warmed to Effie on Twitter and her shining, gently personality comes through in her interview. She is of Greek heritage and her series "The Gift Saga"has been inspired by her father's stories as well as her own inquisitiveness and connection to her family's roots. I hope you enjoy reading her "cup" as much as I enjoyed chatting to her.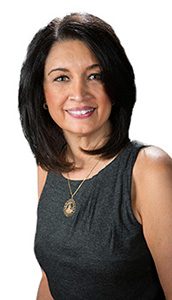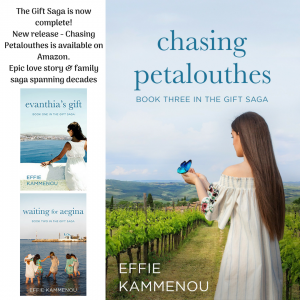 1. When did you start writing creatively?
That is not an easy question to answer. The short answer would be 2012, about six months after my mother passed away. I wrote as an outlet to express myself and to channel my grief. But I had been writing a food blog for several years before that. In that blog, I not only shared recipes, but also the traditions and celebrations that went along with the foods. I also occasionally contributed to a regional magazine, writing restaurant and book reviews and feature articles. However, if I go back even further, I remember writing a play with a friend when we were barely in our teens. And to think I thought I was only interested in acting out the plays, not writing them!
2. Which author has most influenced your own writing style and how?
I can't say that my writing style has been influence by any writer. I admire many authors, envy their eloquence and sophisticated use of the English language, but each author has his own style and own voice. Mine comes from my soul and life experience as well as my interests and observations of the people around me.
3. How would you describe your "The Gift Saga" series' writing?
When I began writing the first book, Evanthia's Gift, I wasn't sure it would turn into a book. I was writing more as a form of therapy. Fifty-nine chapters and 560 pages later, I had a full novel that was the first of a three-part saga. I had a story line in my mind for a while and I expanded it, developing a character inspired by my mother's grace and spirit. I also had a basic idea how I wanted to continue the saga with the other two books, but the details and the deeper story emerged as I wrote.
4. What is your favourite reading genre?
I love to read women's fiction and contemporary romance with deeper themes. The occasional rom-com is fun too. I also like a good paranormal fiction. And I really enjoy revisiting the classics I grew up with. That doesn't really answer your question, does it? I can't pin it down to just one.
       5. You have had an acting career in the past. How has acting influenced or supported your writing career?
Saying that I had an acting career is stretching it. I studied acting in college. I'd hoped to have an acting career. What I lacked at that time was the fortitude to forge ahead through rejections and the moxie to push my way through the right doors. And then there was that annoying reality called 'making a living.'
My training did, however, influence the way in which I write and develop characters. The way I'd breathe life into a role by giving the character a history beyond the script is the same way I gave my characters in my books their personalities, traits and pasts.
I have a little corner of the living room which I refer to as my 'writing nook.' I must have made it too comfy though as my hubby is always sitting there! I don't have a set routine- just whenever I have time.
6. How has your Greek heritage influenced the stories you write?
My Greek heritage is all over these books – the traditions, customs and religious holidays. The food and the spirit of the Greek people. The stories I've heard all my life and the experiences I've had. My observations of other Greeks and Greek-Americans and the dynamics of their families. All of these factors influenced my stories.
7. Tell us a bit about your latest release.
Chasing Petalouthes is the third and last book in The Gift Saga. This story focuses on the current generation in the family as they navigate their way from adolescence to adulthood. In the other two books the mains characters are women and it's no different in this one.
Evvie has lived through the loss of her father and her most beloved yiayiá. Because of this, she thinks that closing her heart will protect her from future pain. She's wilful and defiant at times in respect to her mother who has her best interest at heart but sometimes tries to force her hand in a direction that doesn't interest her.
Stella is the youngest of a family of siblings and cousins who, in her mind, are all more attractive, intelligent and talented than she is. She suffers from a lack of self-esteem and that frame of mind lands her in a relationship with the wrong man.
Throughout the story, the younger generation learn lessons from the older members of their family. Many of the chapters drift back in time as far as 1928 before any of the family had come to America.
In the end, the entire saga is tied together in a very meaningful and heartfelt manner.
8. Where do you write and do you have a writing routine?
I have a home office connected to the kitchen. The joke in my family is that I only occupy one of two spaces in the house – the kitchen or the computer chair.
I work during the day, so I write in the evenings and on my day off. I'm a night owl. I sometimes can be found at the computer until 2 AM and then I get up to go to work in the morning. I can be a little obsessive once I'm in a writing zone. I hate to be interrupted and writing that late affords me a lot of quiet time.
9. How do you "build" your characters?
As I mentioned earlier, I develop characters the way I'd created and interpreted roles. I like to give each character a history even if it doesn't come into play with the story line. But where they come from, the type of life they led and the experiences they'd gone through influences who they are, their traits and mannerisms.
10. What steps do you take to ensure your writing is ready for release?
I make quite a few revisions before anyone else lays eyes on it. I have a good friend, who I call my unofficial editor, and she is the first one to read through the manuscript. I take her suggestions and do another revision. With the first book, I had several beta readers and I'd made many changes after their read through. With this last book, I only had two beta readers before I handed it over to my editor. I make a few more revisions while working with her and when the manuscript is where we both want it to be, it goes out for a final proofread.
      11. What's your favourite go-to snack when writing?
That all depends. Sometimes it's dark chocolate and other times, chocolate licorice. But I'm really more of a savory food lover. Give me a few chunks of cheese and I'm a happy person. Especially kasseri!
     12. I know you're fond of cooking. Tell me a bit about your food blog and how your cooking has influenced this.
The food blog was started because people were always asking for my recipes. I thought it was an easy way to share them and also give a little backstory on what makes the dish I'm sharing special. Most of the recipes are family ones, taught to me by my mother and yiayiá. I'm proud of my Greek heritage and I enjoy explaining the customs and traditions that go along with our delicious foods. I also have other recipes, ones I've developed myself and aren't necessarily Greek. I entertain a lot, especially in the summer, so I post those recipes as well. All three of the books contain recipes between some of the chapters. I did this for a couple of reasons. I simply couldn't help myself! But I also thought for the non-Greek readers, the list of ingredients would aid in imagining what the foods in the text might taste like.
     13. What two things frustrate you the most about the writing industry and how would you change these? 
The industry has changed completely from ten years ago. The ability to self-publish has given me and other indie authors the opportunity to have our books on the market and in the hands of thousands of readers. I've been fortunate that my books have been well received and have sold to a large demographic.
The frustrating part is two-fold. The amount of time I spend on marketing takes away from my writing. I'm always looking for ways to reach new audiences and with all the different social media platforms there are today, I always seem to be on my phone or computer.
The other thing is that traditional publishers have not changed their business model or if they have, only minimally. Indie books are selling at a rapid rate. Readers are buying them and discovering new authors, but unless an author has already sold tens of thousands of books on their own, the publishers won't take a chance on them. Getting your manuscript into the hands of an agent willing to take you as a client is as hard as getting a publisher to consider your book. And you can't get a publisher to look at your book unless you have an agent. I've already gone through this before with my so-called acting career.
All in all, I'm happy to have control over my work, so I just keep going, writing and promoting. I'm lucky to have a fan base that is enthusiastic when I release a new book. I love interacting with readers on social media and I appreciate their comments and reviews.
     13. What's on your current to do list?
Chasing Petaouthes was only released on June 3, 2018. I'm busy marketing the book and looking for new readers for the entire series now that it's complete. I'm working with my cover designer and formatter to create a box set so it can be purchased together at a discounted rate.
I also have notes on the next series and plan to begin writing in a month or so.
I also need to build an author website, something I've put off. I'll be working on that as well.
Huge thanks to Effie for joining us and I wish you the very best of luck with the new release! Thank you too for reading – leave a comment too if you have a spare few minutes. You can connect and follow Effie's writing journey and buy her books on any of her links below:
Links:
Twitter: https://twitter.com/EffieKammenou
Instagram: https://www.instagram.com/effiekammenou_author/
Facebook: https://www.facebook.com/EffieKammenou/
LinkedIn: https://www.linkedin.com/in/effie-kameno-speyer-961682107
Blog: https://cheffieskitchen.wordpress.com
Amazon link to books: https://www.amazon.com/Gift-Saga-3-Book/dp/B07DCBXGGJ/ref=sr_1_5?ie=UTF8&qid=1528001925&sr=8-5&keywords=effie kammenou
Newsletter signup page: http://eepurl.com/bIoJl1
Fan contact e-mail: effiekammenou@gmail.com
Welcome to this week's A Cup of Conversation with children's writer Elisa Gianoncelli who has been writing for over 20 years and is super excited about getting her books on the market very soon! I met Elisa through my work as both a private tutor and editor of her books and her passion and enthusiasm for writing surpasses any I have come across before…with her resilience and determination she is an author to look out for!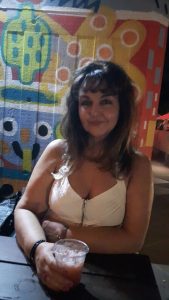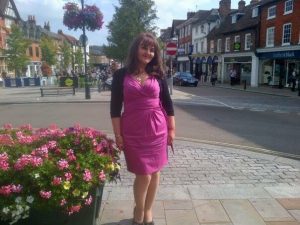 1. When did you start writing creatively?
About twenty-one years ago. My dad got ill and so I started writing my novel Tredicino for him and it would be the only thing to make him smile during that painful time and then I began to write the 'Me, You and…' stories. I switched from one to the other intermittently which kept my writing juices flowing.
2. Which author has most influenced your own writing style?
I would say Roald Dahl with The Frankie book series and I think his zaniness is injected into my stories. JK Rowling's success, however, in her approach to a book series made me look at my novel Tredicino in a different way and because of the word count I have decided to serialise it. I can also say Enid Blyton influenced my writing as I wanted to introduce a varied vocabulary dealing with adventurous situations. For example, the country links with Britain, Ireland and Italy give a taste of the culture of different places increasing their general knowledge as Enid Blyton did in her books too.
3. Many writers dream of having an agent/publisher are you going to pursue this traditional route to market or have you published independently?
Yes, definitely. I think to get my books to a wider audience I would need the expertise and knowledge of the market that an agent and/or publisher will be able to afford me. I have made some of my books available as e-books on KDP but I am still hopeful to work with an expert in the field of children's books so that all the series can be made available.
4. How did youchoose the title of your latest book or book series?
For Tredicino I used the name my dad used in his stories to me as in Italian this means the thirteenth child and this is what this child got called because his parents could not be bothered to give him a name and he was the thirteenth child in his family.
I came up with the name Frankie because that was my nephew's shortened name from Francesco and I thought it suited my little adventurer.
'The Me, You and…'series came along because of my love of the world around us and the signs of danger that were emerging in how people were treating it for example, pollution,
plastic in the oceans and poaching of animals. So I felt as a tribute to animals who I love I could get across to children the amazing aspects of the elements and via the activity we explore these issues further.
As I was writing this series I became very involved in mindfulness and decided to apply this to the children I teach and their learning and so restructured my books to have a mindful approach.
5. Of all your books, who is your favourite character and why?
Tredicino is my favourite character because he's got super powers, he'd been brought up by awful parents yet rises above all the things going against him. By the time he was born his parents couldn't even be bothered to give him a name hence he is called the 13th child and has an awful existence until his grandma comes and lives with the family and he is destined to grow and flourish and become important. It's a story of fighting back and finding yourself in a world that isn't always kind.
6. Your children's books are very colourful; who created your artwork? 
I've had a number of artists work with me. David Ivory illustrated the Frankie books; he was an art school teacher where I used to take my son and then I got in-house support, from those who had creative talents and worked within my school although I have the copyright to all my artwork and I have also done some of the illustrations myself as art was one of my A Levels and has always been a hobby alongside my writing.
7. What are you working on at the moment/what's next?
Presently I'm working on my novel because it has been re-born and re-modelled; due to many personal experiences I've had to put it down and have gone back to it with fresh eyes and working on edits with Soulla. I've told myself this is the last time I'm going back to it since my son reviewed it for me too and made enormous enhancing changes which took it to being more of a universal book for boys and girls.
I'm also working on my educational books; 'Everything you need to know for the 11+ exam in English and Verbal Reasoning and how to pass it.'
8. Where do you write and do you have a writing routine?
I write anywhere and everywhere but I am probably most productive and best at night, usually at the dining room table and sometimes in bed. I usually write at night…with my Tredicino novel I'm re-visiting the novel and developing the characters and adding more detail.
       9. What is your favourite go-to snack when writing?
I've gone through stages but popcorn was a favourite for a long time and chocolate but now I tend to have dates and dried fruit…lots of different fads and currently I nibble on cream crackers!
10. Is there any aspect of the writer's life you least enjoy and why?
I think it can be quite isolated and it can be quite a lonely experience and you do feel a lot of pressure; is it good enough? You always question yourself and wonder if you're doing this well enough and not fooling yourself…but I think that every writer will question their ability but I do find it good fun to get into my writing and the different characters.
11. Does your work as an educator inform your writing in any way? How?
Yes, if I hadn't been a teacher I would not have been able to do the activity books which support the 'Me, You and…' series. I need the wealth of knowledge my experience brings to produce these. It's helped me to choose the vocabulary that I think is essential for children to know.
12. What two things frustrate you most about the writing industry?
I think that literary agents are so difficult to get unless you're a published author and it seems like a catch 22 situation. I wonder whether all publishers really read manuscripts sent to them? I think that's one main thing for me. The second is that I think that those people who are published don't seem to support those of us who need that support to get a lucky break…I think it's kept closed and it's difficult to find a way in. I also think all this ghost-writing doesn't do any real authors a favour either. As a previous ghost writer I made a lot of money for someone else and this left me wanting to do it for myself.
     13. Are you a planner or a pantser?
I think I started off as a pantser and then I became a planner…the structure of the story is vital.
     14. What's on your current to-do list?
What's on your current to-do list?
To get a literary agent or publisher because of the nature of my books, they are not easy to sell on Amazon and I'm hoping to sort this out before I get my novel polished and edited with the right support and I want to get my name out there as a brand.
Links:
BOOKS:
https://www.amazon.co.uk/Kindle-Store-Elisa-Gianoncelli/s?ie=UTF8&page=1&rh=n%3A341677031%2Cp_27%3AElisa%20Gianoncelli
Hi! Welcome to this week's post. I often get asked how I think of writing the stories I write and more recently, what inspired me to write The Summer Will Come.
I've had many enriching experiences in my life which have opened my eyes to new things about myself, people and the world. But the seed which influenced the story The Summer Will Come came from somewhere deep within me. My mum recovered from an illness which lasted over three years and brought the very real concept of death and the fragility of life to me. Everything comes to an end and I began to question my life's purpose. What legacy would I leave behind once I was gone? How would people remember me? What is this life all about?
My Greek Cypriot roots and my sense of wonder and inquisitiveness of what came before filled my heart and my mind. What was life like before I was born, what experiences made my parents the people they are and ultimately have shaped me and the person I am today?
My pique didn't stop there and I began asking questions of my mum and dad, aunts and uncles, anyone who'd care to answer my barrage of questions; What brought you to England? Why did you leave Cyprus? I listened in awe at their recollections, their tales of escape, of heartache, of leaving behind their loving homeland, their hopes and dreams as their parents came to a foreign land with the intent of building a better life for their families. It was these stories and accounts, scribbled notes in my notebook, which formed the historical thread and the eventual story of plot twists and turns in The Summer Will Come.
In addition, I undertook hours of secondary research. I ploughed through many books, internet sites, photographs, and images.
My Instagram account connected me to the family of one of the EOKA heroes of the time; Evagoras Pallikarides. The family shared precious transcripts and notes and personal stories of the time and this history came alive as I read and imagined what it would have been like to live through the struggles of the time as a freedom fighter.
I have also been privileged enough to have connected with some incredible people to gain insight to their memories, thoughts, emotions and the impact that leaving their home country had on them. One key element repeated itself again and again and that was the determination, resilience, love and passion for traditions and culture that kept them going through their adversity and hardships.
The story revolves around two families, both Greek Cypriot living in different villages in Cyprus, one a small mountain village and another a coastal village in the south of the island. It is 1953; the year of Queen Elizabeth II's coronation and the start of what becomes a momentous period in the island's history; a time of turmoil, political conflict and slaughter of innocent people in the name of Enosis (unity with Greece) and freedom from British rule.
The reader is carried through their trials and the final push which forces them to leave their life, the only life they have ever known, to move to London, England. This is primarily a fiction novel set against some of the key moments in the history of Cyprus in the 1950s. It is a book of hope, new dreams, hardship, determination and overcoming adversity at a time when England, too was going through lots of changes.
The novel is written as a multi-point of view story – a mother and daughter from one family living in Kato Lefkara, and a father and son from the other family living in Ayios Tychonas; both villages are real villages in Cyprus.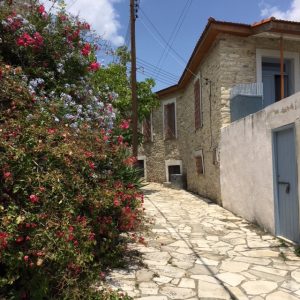 Elena, the daughter, and Christaki, the son, are the key main characters in the story. This helps to explore how the story events and situations are perceived by different generations and through both female and male voice allowing the reader to gain a more rounded experience of all that happens.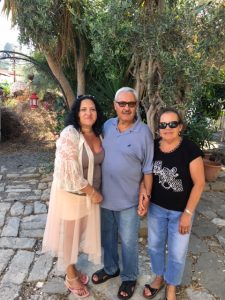 I have visited Cyprus many time over both as a teenager and an adult and I use the sights and smells of village life as I remember them, and as divulged to me through my research to draw the reader into the setting. I was lucky enough to visit Cyprus again earlier this month and with a fresh eye and a deep love in my heart I noticed different things. The stone oven, in which Christaki's mother bakes bread and cooks thefamily meals, is  still hidden in the far corner of the village home's courtyard in Ayios Tychonas. The church where the Queen's coronation is celebrated in Kato Lefkara still stands.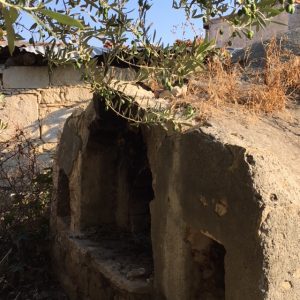 Publishing this book as brought something very special to the book shelves of all those readers interested in Greek Cypriot life and traditions and 1950s Cypriot and British history. Readers who enjoy strong characters, a well-paced plot with realistic yet amazing storytelling will want to read this book. I have cried, laughed and rejoiced with the characters in The Summer Will Come and I know that you will too!
One of the most recent reviews of the book says:
"An excellent read, a story rarely told in public, about what life was life for those Cypriots caught up in the crossfire of the Union with Greece campaign (EOKA) and the British Occupiers. Many who by the 1950s were increasingly impoverished and at the time terrorised by both sides. Shot at by both sides, caught up in bombings, not wanting the colonists in power, but not wanting the violence either. By 1958 the story moves to Britain as an increasing number of Cypriots move to England, in this case London.
Have you ever wondered what immigrants made of London in that period, coming from beautiful towns and villages to this smog ridden and dirty massive metropolis? But nothing is exaggerated here, our heroes suffer culture shock, family tribulations, but they also find new positives in the new life.
To say more would spoil the reading of a very good book, a book I couldn't put down and read in 3 nights."
If you'd like to read the book or read some more of the reviews it has received then please go to my Amazon author page here.
And until next time, take care and happy reading!
Soulla xxx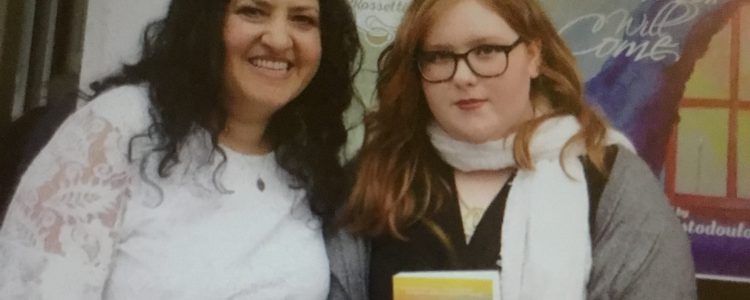 Welcome everyone! I am delighted Mya Glenister agreed to do this featured blog post! As a former teacher of Business Studies and Pastoral Leader in a local secondary school, I am a huge advocate of giving young people opportunities to learn, develop, enhance their skills and build resilience and confidence too.
After launching a competition via Instagram for artists to come up for book cover ideas for my two novels, I chose Mya Glenister's design out of six proposed designs sent to me as well as an original painting on canvas by another Athens-based student, Alexandros Sainidis.
This is her experience in her own words and I will be forever grateful to her for her dedication, mature approach and tireless edits to the final designs I used for Broken Pieces of Tomorrow and The Summer Will Come. This is Mya's story:
Hi, my name is Mya Glenister and I'm a 15-year-old from the United Kingdom. I designed the cover for Broken Pieces of Tomorrow and formatted the cover for The Summer Will Come. I met Soulla on Instagram after she had seen some of my work, and she messaged me and asked me if I wanted to take part in a competition to design her book cover. It was quite exciting for somebody to suggest something like this – I was, and still am, a very small artist and nobody had really noticed me or recognised my art before. Being selected and taking up an opportunity like this was both exciting and scary, but it was fun and I recognised it as being potentially important for my future too. I should also mention that Soulla contacted my mum and Okayed our working together as I am still a minor.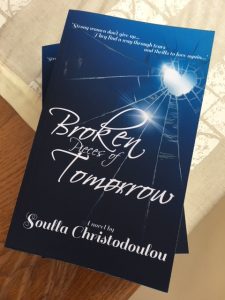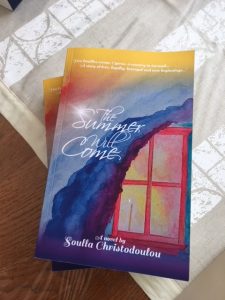 6 things I have learned through designing book covers (plus some tips)
1.      Art block is incredibly frustrating
Art block is when an artist has absolutely no ideas or inspiration. I think that designing a book cover is easier said than done. It is incredibly frustrating when you can't think of anything to put on the cover, particularly when there's a deadline. I've had art block plenty of times before, but when there's a deadline it gets a lot worse. To combat it, Soulla suggested that I use Google images to search words from the title of the book, and her summary of the story, to source a bank of images and ideas. Well, it worked, and that's where I got the idea of the crack for the cover of Broken Pieces of Tomorrow. The heart comes from the romance part of the story.
2.      Decisions
Deciding the fonts and colours was really difficult. I had to research a lot of things to set the mood of the story. With Broken Pieces of Tomorrow, I created the entire cover, so I had to research both fonts and a colour scheme. The light and dark blue background can connote the sadness that Georgia goes through as well as her strength as she goes on her journey to new beginnings. The white of the text and in the centre of the heart represents purity, hope and starting over. The use of these colours sets the tone of the book before the reader has even started reading it. Fonts can also draw readers in and set the tone of the book. Cursive and script fonts, like the ones I used on the Broken Pieces of Tomorrow cover, look very feminine and quite mature, which signifies that the book is a women's adult fiction. Also, be careful which fonts you choose. Choose ones which are on the public domain or are 100% free. These are completely free to use commercially, but you can pay for fonts if you want to. While you shouldn't judge a book by its cover, it's still important that you are able to set the general mood and idea of the story with the cover.
3.      Time management and Overworking
As a 14/15-year-old, it was difficult to be able to work on my studies, work on the covers, and have my own free time. I had to manage my time and it was pretty difficult. It did, however, help me have a better understanding of time management and helped to develop organisational skills and the importance of prioritising. Year 9 and 10 are extremely important years as a student, as this is where you learn most of what you'll need in year 11 for your exams, so there is significantly more homework than in year 7 and 8. As well as having studies and the cover, I had to have my own free time to relax and cool off – I learned that the hard way after I had overworked myself and caused issues with my mental health. Thanks to the experience of creating the cover, I understand better now that it's important to spread work over time and still have time to unwind, and I think that this'll help me through my adult years too.
4.      Time flies
Time is an extremely important factor when doing anything. I've already mentioned it once, and I'm going to mention it again. Time flies when you're doing something important. The time between Soulla requesting me in March 2017 and the book being released near Christmas of the same year felt extremely short. Understanding time is crucial if you're going to design a book cover, just as it goes quickly when you're working towards anything at all. I've already been told plenty of times that Year 11 goes very quickly when you're revising towards your exams – it's exactly the same with designing a book cover. I'm glad that I've had the opportunity to experience time's cruel flow, and it will help me with my exams and maybe even life in general.
5.      Motivation and Attention
Being motivated to do anything is difficult, especially when you're an easily distracted teenager. I found it difficult to stay focused on something for more than about half an hour to an hour (for example, while writing this post, I started Googling why milk curdles with acid). It's easy to divert your attention towards something else: that TV show you're halfway through watching and really want to finish, going out with your friends instead of doing something you need to do, or even sleeping for 'just five more minutes'. You'll sometimes even get distracted when you are really enjoying doing something. The best thing to do if you find yourself getting distracted is to remind yourself why you're doing what you're doing in the first place.. What is it all for? If you're revising for your GCSEs, it's so that you can pass and get a good job. If it's a book cover, it's so that the author's book can be released, and your art can be on display. Reminding yourself what it's for can improve your motivation and focus your attention.
6.      Pride
Pride is not a bad thing. If you've designed a book cover, it's good to have pride in your work. That's your art, and it's the first thing people see when they pick up the author's book. And you've got to be proud of it. You've put effort into it, and it's yours, not anybody else's. You have the bragging rights, so use them! It's not wrong to tell somebody what you've achieved. You, specifically, have been chosen to create it, so why not be proud of that? I am really proud of my work, and I have told a lot of people about my achievements and that's not a bad thing at all. You've got to hold your head up high and be proud of what you've achieved.
You can find me on social media:
Instagram.com/artful_ginger
Facebook.com/artfulsilver
Huge thanks Mya for this fabulously insightful discussion about your experience of designing my book covers. I wish you all the best in your creative career and in your upcoming Year 10 mocks too!
Thank you too for joining me again and I hope to see you again soon!
Keep smiling, keep shining, be you!
Soulla x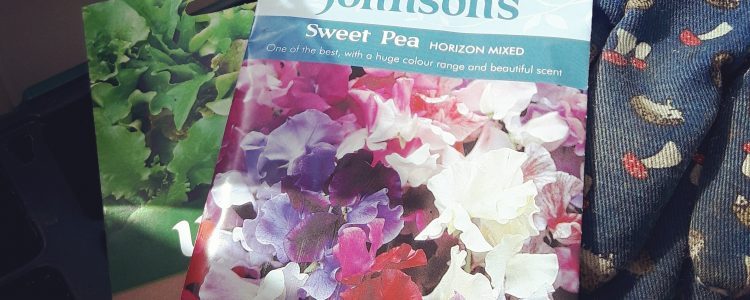 Summer is in the air and I hope that as you read through this week's A Cup of Conversation you will be truly transported to summer with Sunday Times BestSeller author Heidi Swain. In this wonderful interview she tells me how she loves to talk all things books and loves how supportive the writing community is. She also shares her love of the free flowing prose of authors Trisha Ashley and Milly Johnson and lots more. So welcome and I hope you enjoy this week's interview.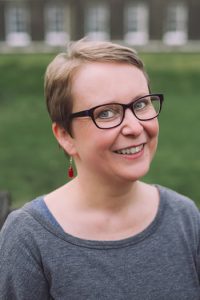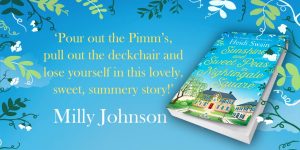 1. When did you start writing creatively?
I think I was around fifteen when I started to tentatively write for pleasure. It was a clandestine pastime and I wrote in pencil on lined A4 rather than in any of my pretty notebooks. I didn't want to ruin them!
2. You say you attended creative writing classes…what impact did the classes have on you as a writer?
The classes not only gave me the confidence to share my efforts, but also the opportunity to explore different writing styles and genres. The structure, routine and writing exercises (homework), helped me develop a committed writing routine and I was able to discover what I enjoyed writing and what I wanted to develop as well as what I didn't want to write.
3. Which author has most influenced your own writing style and how? 
That's an interesting question. I think to a certain extent every author you read has an influence. At school I enjoyed Dickens and his ability to capture the minutiae in great detail. Setting is incredibly important to me so perhaps he has influenced my desire to capture and set the scene. I also love the free flowing prose of Trisha Ashley and Milly Johnson, so they have also most likely played a part.
4. In your own words, you write "feel-good fiction with heart" – can you tell us more about your genre of writing.
I love to tell a story which has the ability to whisk the reader away. I don't just want them to meet and make friends with an interesting cast of characters, I want them to really feel that they are sitting in The Cherry Tree Café tucking into a cake or that they're collecting eggs at Cuckoo Cottage. In short, I want the person sitting down with one of my books to feel as though they've had a little getaway, even if it only lasts for as long as their lunch hour, holiday or coffee break.
5. What is your favourite reading genre?
I love to read the sort of books I write and I'm very fortunate that editors are always getting in touch to ask if they can send me a manuscript or three. It's the best job in the world!
6. How do you choose the title of your books? 
With great difficulty! Occasionally a fully formed title will land without too much searching, but it is a rare and much prized thing! It took my publishing team and I forever to decide on the title for my latest release, Sunshine and Sweet Peas in Nightingale Square. I'm very strict about including things in the title which will actually feature in the book, especially the Christmas ones. I often hear readers bemoaning the fact that the festive book they are reading, which has Christmas in the title, barely touches on the season.
7. Huge congratulations on your new release! Can you tell us a bit about it? 
My new book, which hit the shelves and e-readers yesterday, is called Sunshine and Sweet Peas in Nightingale Square. Set in Norwich, it tells the story of almost-divorced Kate who moves to the city with the intention of living a quiet life, but her neighbours have other plans. Kate is a Wynbridge girl so the town and some familiar faces do feature but ultimately the book is about friendship, new beginnings, gardening and finding new love.
       8. Where do you write and do you have a writing routine? 
That very much depends on where I am on the Book Writing Journey. As a rule, if I'm working on my laptop, I'll be perched at the end of the dining table but if I'm writing longhand that can happen anywhere. I love to write in the garden at this time of year, if it isn't too hot. If I'm writing a first draft or editing I tend to start early, around 6.30 am and write until lunchtime. Afternoons are for catching up on social media, writing blog posts, checking emails and thinking. That said, if I'm 'between books' it all goes awry. I'm pretty rubbish when I'm between projects and have a tendency to clear clutter, wash curtains, vacuum the cat, anything to keep me busy. I'm not great at sitting still, so it might just look like I'm scrubbing the bath but actually I'm creating characters and working through plot problems in my head! 
       9. How do you "build" your characters? 
All of the books I have written so far feature characters which pop up in someone else's tale. Quite often I'll introduce a character into the book I'm writing, someone who has a minor role, and before I know it they're off and running, clamouring for me to tell their story. I love it when that happens! To help me get to know them better I have a set of character questions which ask impertinent things such as 'it's ten o'clock on Saturday morning, what is your character doing?' or 'what's in their fridge and on their nightstand?' The answers can be most enlightening.            
       10. What steps do you take to ensure your book is ready for release? 
If the words are flowing a first draft (approx. 95,000 words) will take around 12 – 16 weeks to write. It is then sent to my agent and editor who will make suggestions for the second draft. After that there will be editing, proof reading and reading again before it is ready to be printed. Reading out loud really helps and switching between screen and paper is also helpful.
11. I know you like galaxy bars. What else is your go-to snack when writing? 
To tell you the truth, I don't really do snacks. I'll have a banana mid-morning but it doesn't get more exciting than that.
       12. Tell me about becoming a Sunday Times Bestseller, which is truly amazing and I'm sure the dream of so many writers. What does it mean and how does it                happen?
Basically, to become a Sunday Times Bestseller you have to sell a certain number of books to make the list. It was my ambition to see my name there, but I didn't expect it to happen quite so soon! When my 2017 Christmas title, Sleigh Rides and Silver Bells at the The Christmas Fair was released, I had high hopes that it would sell well, but receiving the phone call from my editor, Emma Capron, to tell me that it had jumped from number 13 one week to number 5 the next was phenomenal. For me, it was proof that readers really wanted to read my books.
       13. Do you enjoy face-to-face events?
I absolutely love face-to-face events! Social media is fabulous, but for me, nothing beats the opportunity to catch up with bloggers, chat with readers and meet other industry professionals face-to-face. I'm a sociable person so any chance to chat, especially about the business of books, is grabbed with both hands. Our tribe (as I like to call it), is wonderfully supportive and that includes publishers and other authors as well as bloggers and readers, so getting together is always a pleasure. I consider myself very lucky to be a part of it.
      14.What two things frustrate you the most about the writing industry and how would you change these?
I know I'm running the risk of sounding infuriatingly smug but (so far) I've had a wonderfully smooth run. I don't want to change anything. Ask me again next year!
      15.Can you share what's on your current "to-do" list right now?
Well, as I type this I'm between writing projects so it's a pretty varied list. Don't you just love lists? I have a daily one, another in my week to view diary, another on my phone and pointers on the wall calendar. Sorry, I digress. OK. The current list…
Prepare content for the Nightingale Square blog tour
Email my contact at BBC Radio Norfolk to request a publication day spot
Clear clutter in the sitting room – aka new novel thinking time
Water the sunflowers in the conservatory
Crikey, that's it! A quiet day!
Huge thanks to Heidi for sharing her writing life and her books and of course to you for reading! 
Until next time, Happy Writing, Happy Reading, Happy You! 
If you would like to keep in touch with Heidi or buy any of her books these are her links:
Twitter: https://twitter.com/Heidi_Swain
Instagram: https://www.instagram.com/heidi_swain/
Facebook: https://www.facebook.com/WriterHeidiJoSwain/
LinkedIn:
Website: http://heidiswain.co.uk/
Blog: http://heidiswain.blogspot.co.uk/?m=0
Amazon link to books: https://www.amazon.co.uk/Heidi-Swain/e/B00YNN3LDI/ref=sr_tc_2_0?qid=1525932987&sr=8-2-ent

This is the fabulous interview carried out for whisperingstories.com during my recent Book Blog Tour to promote the release of my second novel The Summer Will Come. I'm delighted to be sharing it with you here.
This week on 'The Writing Life of': I am thrilled to be interviewing author Soulla Christodoulou. Soulla will be sharing with us detail of her writing life, telling us all about her latest book 'The Summer Will Come', which was released on 7th March 2018, and answering a few fun questions too.
So without further ado I'll hand you over to Soulla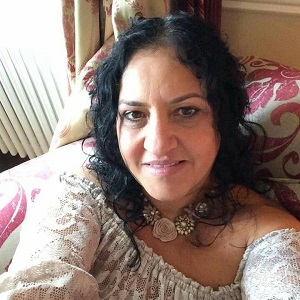 Born in London to Greek Cypriot parents Soulla Christodoulou spent much of her childhood living carefree days full of family, school and friends. She was the first in her family to go to university and studied BA Hotel & Catering Management at Portsmouth University. Years later, after having a family of her own she studied again at Middlesex University and has a PGCE in Business Studies and an MA in Education.
Soulla is a Fiction author and wrote her first novel Broken Pieces of Tomorrow over a few months while working full time in secondary education. She is a mother of three boys.
She is a compassionate and empathetic supporter of young people. Her passion for teaching continues through private tuition of English Language and Children's Creative Writing Classes as well as proof reading and other writing services.
Her writing has also connected her with a charity in California which she is very much involved in as a contributor of handwritten letters every month to support and give hope to women diagnosed with breast cancer. One of her letters is featured in a book 'Dear Friend', released on Amazon in September 2017.
When asked, she will tell you she has always, somewhere on a subconscious level, wanted to write and her life's experiences both personal and professional have played a huge part in bringing her to where she was always meant to be; writing books and drinking lots of cinnamon and clove tea!
She also has a poetry collection, Sunshine after Rain, published on Amazon and The Summer Will Come is her second novel. She is currently working on a third novel Trust is a Big Word about an on-line illicit relationship that develops between two people.
The Interview:
1) As a child what did you want to do when you grew up?
I longed to be a teacher growing up and would often play 'teachers' with my two sisters and brother and two local children. I'd collect scrap paper and ask my mum to sew them together on her sewing machine to make little books which they'd use to write in. I had a black board and an easel and would 'set' work for them to do. I was a strict teacher but in reality, when I trained as a teacher in my late thirties, I was 'school mum' to many of the students I taught and found I could never be as strict as I would have liked.
2) Who were your favourite childhood authors?
One of my earliest most favourite books was Cinderella which I read in the school library independently during reading time at Junior School. It was a great privilege and I was only allowed to do this because I was so competent in reading and didn't need the support of a teacher. Another favourite, which I still own, is a red leather bound copy of The Secret Garden with gold lettering on the front; a gift from my God-sister on my 13th birthday.
3) At what point in your life did you realise you wanted to be a writer?
In 2014 I had a particularly tough year with my mum's ongoing diagnosis of and treatment for cancer. I began to struggle with various changes and demands at work. I loved my job, I was teaching Business Studies at the time and I was a Deputy Head of Year for the Sixth Form, but I needed something to keep me buoyant outside of work and away from home.
It was during the Christmas holidays that I came across a local creative writing class and signed up as one of my New Year's Resolutions to do something for myself. It was one of the best decisions I ever made. The feedback I got on my writing encouraged me to pursue my writing.
4) How did you go about following that dream?
In truth, I wrote every day at every opportunity I had. I wrote Broken Pieces of Tomorrow within a few months and then spent a year revising, editing, proofreading, going over the plot, dialogue, till I was almost nauseous reading it.
I took the advice of my fellow writing buddies, my creative writing teacher and my beta readers. I listened and 'studied' and researched writing tips and creative writing sites to glean as much information to help me as possible. I slept, dreamt and lived 'writing'. It became my escape and my saviour.  I work every day to improve my writing and write the best that I possibly can. Writing for me is a journey of self-discovery, daily learning and encompassing personal change and making room for growth; emotionally, intellectually and spiritually.
5) What is your writing day like? Do you aim for a certain amount of pages or words before you stop for the day?
I don't put any pressure on myself at all.  If I really don't feel like writing, then I don't. This also avoids feeling guilty or struggling to get past writer's block which I hear many writers talking about. When I start writing and I see the word count adding up I then push myself to write another 200 words or to reach 3000, for example. Small steps, big achievements.
6) Did you ever consider writing under a pseudonym?
I considered writing under my maiden (and still might one day) but somehow got carried away with the writing and promoting everything under my married name and it felt silly to suddenly start mentioning my work in relation to a different name to that which people associated with me.
7) Do you have any strange habits before starting, or whilst in the midst of writing?
I don't actually other than turning my mobile on silent and 'setting up' my workspace so I have everything to hand such as notes, research and any scribbled feedback from my creative writing buddies.
8) Do you write longhand, typewriter, or on a computer?
I type my manuscript on a laptop. However, I have many very pretty notebooks which I use for making notes in. I write often using a form of speed writing which I developed while at university many years ago. I record my own notes and thoughts from research material I have consulted via the internet or other sources such as library books or reviews, social media such as Instagram and Pinterest, face-to-face interview notes.
I also write down any interesting words or phrases I have come across when reading.  My Kindle makes this easy as I can highlight anything that attracts me; it might be a word, a phrase or a certain description which resonates with me.
9) How many books have you written? Do you have any unpublished work?
I have written three novels and a collection of poetry. The first book, which was published on Amazon in August 2017, is titled Broken Pieces of Tomorrow.  The Summer Will Come will be my second novel and I am currently 43,000 into a third novel called Trust is a Big Word.  My poetry collection Sunshine after Rain was published on Amazon too last summer.
I have the skeleton of a period ghost story written and a few chapters of another book which falls within a similar genre to that of The Summer Will Come although it is set in modern day Cyprus.
10) Are you a plotter or a pantser?
I'm more of a plotter. I write a chapter synopsis and try to keep a running time line but this changes as I write and I've come to recognise that no plan can be set in stone. My imagination takes me where it wants to go and so I'm often changing my plans; they have to be organic and fluid to support my creative, sometimes messtangled and confuddled mind. I pantsed Trust is a Big Word but now I have to go back and try to piece it together and work out which order to put the chapters in so I'm not sure being a pantser suits me.
11) Do you read all the reviews left for your book(s)?
I read and respond to all my book reviews from my readers; if my readers have taken the time to buy, read and review my book I think the least I can do is acknowledge them personally. I love reading my reviews and I swell with delight every time. So far, I've had no negative reviews.
Concerning your latest book: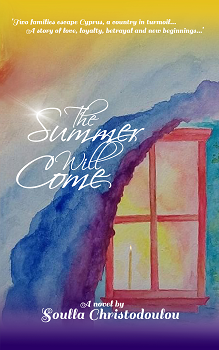 The Summer Will Come
Author – Soulla Christodoulou
Pages – 492
Release Date – 7th March 2018
ISBN 13 – 978-1976908040
Format – ebook, paperback
Synopsis:
Set in the 1950s, the story begins in Cyprus. EOKA, British rule, and the fight for Enosis (unity) disrupt the world of two Greek Cypriot families, living in different villages on the island. They are desperately trying to cope with the unpredictability of this fractious time.
Circumstances over a five-year period push both families to escape to London where, as immigrants, they struggle to settle, face new challenges, trauma and cope with missing their homeland's traditions and culture.
Both families' lives cross paths in London and it seems that happier beginnings could be theirs. But at what cost?
A story of passion for a country in turmoil, family love, loyalty and treachery and how, sometimes, starting over isn't always as imagined.

12) How long did it take you to get from the idea's stage to your date of publication?
I wrote the first word on 10th January 2016 and wrote the last word, albeit the edited version (though I'm not sure there ever really is a last word) a few days ago so 27 months.
13) How did you come up with the names for your characters?
Initially I used the names of family members which made it easy to keep track of who was who and who was related to who. Once I was in the final stages of editing I changed some of the names to uphold confidentiality in some cases and in others to use names which were easier to pronounce in English.
Being of Greek Cypriot background I am familiar with Greek names and in particular Greek Cypriot names which were popular during that time period; all I had to do was recall the names of my own family and friends' parents, aunts and uncles.
14) Can you give us an insight into your main character(s) life?, What makes them tick?
There are two key characters, Elena and Christaki, although the story is told from the perspective of four people; Elena and her mother Evangelia and Christaki and his father Loizos.
Elena dreams of green fields and going to London to be with her father who, at the opening of the story, we are told has been in London for the past nine years. She has a fairy tale like view of the world and even as she becomes a young adult she believes in happy ever after even though her own life with her mother and twin brother has been thwarted by poverty, hardship, deceit and betrayal. She likes to have fun, embraces all that London has to offer with its hustle and bustle and music and clothes and fashion. But she also knows that to get what she wants she has to work hard.
Christaki, in contrast, is sensible, takes life seriously as head of the family for the time he is in London with his mother and younger siblings. He has great respect for his family and the traditions of his home country and tries to uphold these even when the family escape to London. The boldness of Elena intrigues him and excites and brings out another side to him which I think readers will enjoy.
15) Which was your hardest scene to write?
Strangely enough, it was the last scene. I'd written a wedding scene in my first novel, albeit a modern day Greek Cypriot wedding and I didn't want to repeat the scene in the same way. I was also conscious of the time period being different, different generation and circumstances as well as the fact that the final chapter of the book is written from two perspectives; that of Elena and Christaki.  I wanted to get the feelings of both these individuals across and it took many re-writes to get this to a point I was happy and my writing peers' feedback and suggestions made all the difference to the final version which I re-wrote and tweaked many times.
16) How did you come up with the title of your book?
The title of my novel The Summer Will Come has been taken from the poem written by Evagoras Pallikarides.  Evagoras is a hero and poet very much associated with the time period in which the story unfolds.  It is said that a day before his trial, and having decided to join the EOKA fighters in the mountains, Pallikarides broke into his school and left a message and poem for his fellow students to read the following morning: 'Dear school friends, At this time, someone is missing from among you, someone who has left in search of the fresh air of Liberty, someone who you might not see alive again. Don't cry at his graveside. It won't do for you to cry. A few spring flowers scatter on his grave. This is enough for him…' I have included this information and the poem he wrote in the front of the book.
17) Did you get a family member/friend to read your work before sending to the publishers?
I attend a bi-weekly creative writing class and so my chapters are read and reviewed by the group on an on-going basis. Once the book was 'finished' I asked 12 people to read the final manuscript before making my final revisions prior to publication.  I also passed the manuscript to two authors and academics of Cyprus history for feedback and endorsements for the historical content which I am happy to say I received.
18) What process did you go through to get your book published?
Towards the end of writing the first draft I put a shout out on Instagram for a designer and connected with a student in Athens.  He drafted a few ideas in sketch format and once we agreed on the design I liked he painted it using watercolour paints. It's totally original. I then had the support of another student, who designed the cover for Broken Pieces of Tomorrow, to format it correctly for upload onto KDP. The e-book formatting process I did myself but the paperback formatting was commissioned to a company called Dragon Realm Press who also formatted Broken Pieces of Tomorrow for me.
19) What did you do once you had written the final word in your book?
I continued with planning the final elements of the Launch and Book Signing Party! I used to do event planning years ago so I absolutely loved this!
20) What's next for you, writing-wise?
I'm 43,000 words into the first draft of a third novel currently called Trust is a Big Word, but this may change, so my main aim for the rest of 2018 is to finish that and work on edits before releasing it towards the end of 2018/early 2019.
Fun section:
1) What's your favourite food?
I really enjoy home cooked Greek food but equally enjoy a Thai green chicken curry with jasmine rice and noodles!
2) If you had a box of crayons and you could only choose one, which colour would you choose?
It would have to be any shade of pink! As a mother of three boys I became conscious of typical 'boy' colours running through my life and made an effort to move away from navy blue (my staple colour through my teenage years and early adulthood).
3) What movie could you watch over and over again?
This is so not an easy question for me to answer. I'm a real romantic and I love happy endings. In recent years I have watched Bridget Jones' Diary, Pretty Woman, Ghost and My Big Fat Greek Wedding at least half a dozen times each!  But equally I can watch dramas and the adaptations of classic tales such as Little Women, Pride and Prejudice and A Tale of Two Cities over and over again; each time taking something different from the story and the characters.
4) What would be the top song on your playlist?
I'm a real dancing queen so anything boppy with a disco beat…I grew up with Donna Summer, Michael Jackson, George Michael and Mariah Carey but I equally love dancing to Justin Timberlake, Shakira, Chris Brown, Ray Sean, Charlie Puth, Justin Bieber…the list is endless, lol!
5) If you won millions, what would be your first purchase?
It would have to be a home for each of my boys and to set up a school to teach basic writing skills to children and adults as well as life skills. The teacher in me will always lie waiting to come out!
6) A talking duck walks into your room wearing a baseball cap and sunglasses, whats the first thing he says to you?
'Hey chick, wanna have some fun?'
You can find out more about Soulla Christodoulou by visiting the website/social media sites below.
www.soulla-author.com
@schristodoulou2
Facebook
Instagram
Pinterest
Goodreads
I would like to say a big thank you to Soulla for sharing with us details of her writing life, and for a wonderful interview. (Thank you too Stacey!)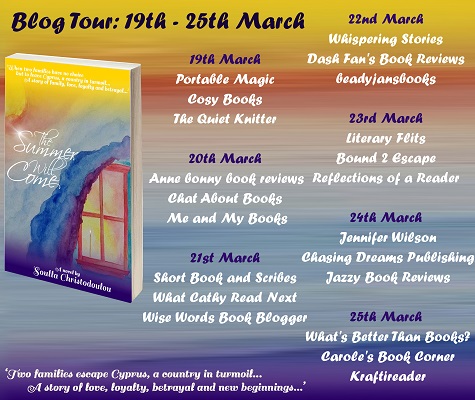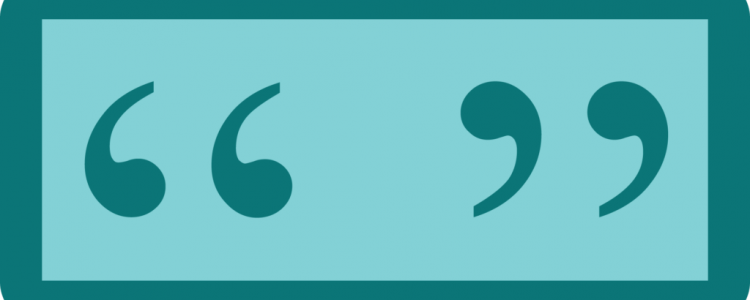 Welcome back to this fabulously popular series. This week I'm joined by fellow writer and poet Amy J. Markstahler and poet Paul Penn. So let's jump right in and see which quotes have fired up their inspiration and the impact these have had on their writing and across their lives.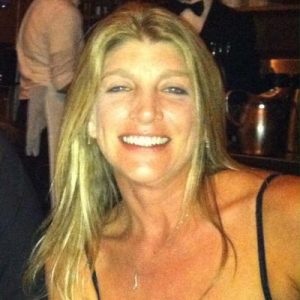 Amy J. Markstahler's favourite writing quote is:
"I'm not a writer with a drinking problem, I'm a drinker with a writing problem."
Dorothy Parker 
How did the quote get you into writing, help develop your writing style or attitude?
I gave the question a lot of thought, and all I could remember was reading this back in 2013. I was visiting Ireland with my mom, and we were at a beautiful shop that made and sold anything wool. I look up and there's a magnet that had this quote on it. I laughed so hard, but a pang of jealousy pierced me once again because I so desperately wanted to write. I looked at my mom and said, "I have to have this." In the spirit of Ireland, I thought the quote fit quite well! Mom's return look confirmed how crazy she thought I was, even though, she knew all I'd ever wanted to do is write. After we came home, I looked it up to find that it was an American Poet whom I truly admire today. That was May of 2013, and I started writing Life Happens on the Stairs in July of the same year.
What are you writing at the moment/working on?
I am currently in the final edits of Life Happens on the Stairs. I call it LHOTS for short. LHOTS will be released in October of 2018 by Black Rose Writing Publisher, and I couldn't be more excited! This is a coming-of-age story about a girl faced with her dying father and her mother who desperately needs her help to make ends meet. As they go through the heavy reality of losing the man they love, Elsie falls for a boy who her mom forbids her to see. Elsie gets the warning a bit too late though, and she has to choose between lying to her mom and finding the love of her life. LHOTS is a story that hones in on the complexities of family relationships, loss, wealthy verses poor, North verses South, and what it looks like for a boy to treat a girl like a gentleman should. Another project is a novel about an orphaned teenager forced to live with his uncle who's the President of a one-percenter biker club. I also have a short story that I'm expanding into a full novel. I write poetry to fill the days when I need to get something written, but don't necessarily have time to work on the novels. Most of my poetry can be found on my Twitter page.
Social Media Links: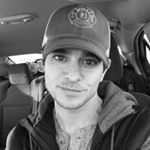 Paul Penn's favourite writing quote:
"The longer I live, the more I realize the impact of attitude on life. Attitude, to me,

is more important than facts. It is more important than the past, the education, the money, than circumstances, than failure, than successes, than what other people think or say or do. It is more important than appearance, giftedness or skill. It will make or break a company… a church… a home. The remarkable thing is we have a choice everyday regarding the attitude we will embrace for that day. We cannot change our past… we cannot change the fact that people will act in a certain way. We cannot change the

inevitable. The only thing we can do is play on the one string we have, and that is our attitude. I am convinced that life is 10% what happens to me and 90% of how I react to it. And so it is with you… we are in charge of our Attitudes." 
How did the quote get you into writing, help develop your writing style or attitude?
When I was around 13 years old my baseball coach gave everyone on my team a framed version of this quote.  I'm 37 now and I'm staring at that same framed quote because it's sitting in my office at work.  I've kept it with me because I love everything about it and I try to live my life this way.  Trust me, I know every day won't be great but I know if I have a positive attitude, work hard and treat people the right way then success and happiness will follow.
What are you writing at the moment/working on?
I'm always writing something.  I used to only write when I was going through a difficult time but 2 years ago I started writing songs and I never stopped.  I usually write at night after my  daughter goes to bed.  I come up with a lot of ideas in my head while I'm driving then I expand on those when I'm writing at night.
I do have a project that I've been working on for a while now and I'm almost ready to launch it.  I'll be selling T Shirts and other clothing with my writing on it.  My good friend has his own clothing line so I've been working with him.  I really want it to be different and more than just the shirt so I'll be throwing in a free necklace with a moon or flower charm.  I also designed my own stickers so every shirt will come with one of those.  I'm excited about it but it's a lot of work and I want everything to be perfect.
Social Media Links:
Instagram: @paulyp9
Many thanks to Amy and Paul for joining us this this week and to you, my lovely readers.
And if you would like to appear in this series or have any comments please contact me below.
Until next time, Happy Writing, Happy Reading, Happy You! 
Soulla xxx